The holiday season begins
On November 11 each year, thousands of young and old celebrate St Martin's Day, especially in the predominantly catholic areas of the Rhineland and Southern Germany. German children carrying candle-lit lanterns and sing 'lantern songs' parade in celebration of the saint……
This gingerbread man with raisin eyes and a white clay pipe is popular sweet bread eaten on and around St. Martin's Day (November 11th). In Germany you'll find them in bakeries, but all the more fun to bake at home with the kids …
Recipes to give these traditional roasts the star treatment, and to dress up the leftovers…
If yours is one of those families whose Thanksgiving tradition allows a little play in the menu, try slipping in one or two of these German favorites. Your guests will be grateful! And, isn't that what Thanksgiving is all about?…
It's not too early to think about holiday baking! Peak baking weekend is just around the corner — the second weekend in December usually takes the cake — and these traditional German Christmas cookies are great the whole holiday season….
What to Cook Now
Spaetzle Gratinee with Red Cabbage, Cambozola Medallions and Curry Glaze
Alexander Cake (Alexander Torte)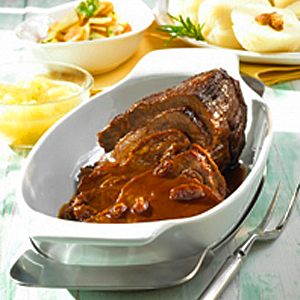 Goldsaft Sauerbraten (Rhineland Sauerbraten)
Crunchy Plum-Filled Potato Dumplings (Knusprige Zwetschgenknoedel)
Shop German Foods
Laroshell Pralines filled with Irish Cream Whiskey 5.2 oz
Bergen Marzipan Fruit 6pc Asst 2.6 oz
Butlers Famous Irish Liquor Filled Chocolate Truffle Collection 3.5 oz
Niederegger Double Chocolate Marzipan Loaf 2.6 oz.