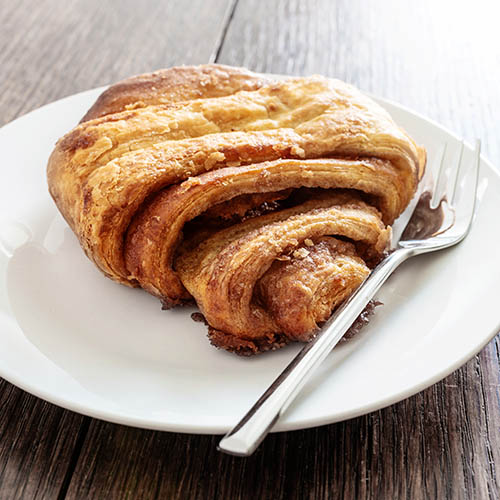 Franzbrötchen (Franz's rolls) are an exclusive specialty of Hamburg, although their reputation as a breakfast treat has spread across Germany. Whether it was a drunken bakery apprentice named Franz who accidentally sat on a baking sheet with dough at night, or whether the cinnamon rolls developed from a buttery baguette-style bread named Franzbrot (Franz's bread), the origin of this pastry lies in the dark.
Ingredients
For the Dough:
2

1/4 ounce envelopes

active dry yeast

1/3

cup

lukewarm milk

plus 2-3 tbsp

2-1/2

cups

all-purpose flour

plus 1/3 cup

3/4

tsp

salt

4

tbsp

¾ unsalted butter

softened

1/3

cup

sugar

1/2 tsp

tsp

ground cinnamon
For the Filling:
1

stick

unsalted butter

chilled

3/4

cup

sugar

1

tbsp

ground cinnamon
Instructions
For the Dough:
Combine yeast with the milk in a small bowl and let stand for 10 minutes until frothy.

Mix the flour and salt in a large mixing bowl. Gradually add the yeast mixture. Stir in the butter and sugar. Knead into a smooth dough using the kneading attachment of an electric mixer. Cover and let rise for 20 minutes.

Work the cinnamon into the dough and roll with a heavy rolling pin into a rectangle, approximately 11 x 27 inches.
For the Filling:
Cut the butter into small chunks and distribute them evenly onto the dough. Sprinkle with the sugar and cinnamon. Roll up the dough from the long side to a flat roll and let rest for 20 minutes.
Then:
Cut the dough into 2-inch-thick slices with a sharp knife. To give the franzbrötchen their typical compressed, dimpled shape, use the handle of a wooden spoon or the blade of a dinner knife to make a deep dent parallel to the cut side in the middle of each piece. Grease a 17½ x 14-inch baking sheet. Place the rolls at least 2 inches apart on the sheet and let them rest for 20 more minutes. Meanwhile preheat the oven to 400 degrees F.

Bake rolls for 15 to 20 minutes, or until well risen and golden. Serve fresh from the oven.
Recipe courtesy of Nadia Hassani, Spoonfuls of Germany.