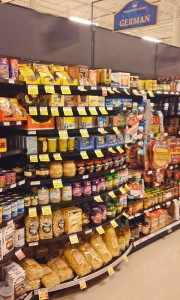 Looking for a store with a good selection of German foods or a nice place to have a great German meal? Search our listing below to find retailers with a large selection of German food and beverage products near you.
Of course, you can find a few (3-5) authentic German foods or beverages in almost all small and large supermarkets in the US and Canada. This listing focuses on those stores that carry 10 or more products in various categories.
Keep Us Up to Date! Add / Modify a Business Listing We work hard to keep our database up to date, but businesses are constantly changing. Please help us by letting us know about openings, closing, or changes of address for stores, restaurants and events. We try to keep all contacts up to date, but we can get it wrong, too. Before making the trip to a store, restaurant or special event, call or check the web if it's still open and in business.
Specialty Stores in Canada
Atlantic Provinces
Prince Edward Island, Newfoundland & Labrador
New Brunswick
Nova Scotia
 Alberta

GIFT BASKET BOUTIQUE
145A-44 Avenue SE
Calgary, AB T2G 4X4
Britsh Columbia

OVERWAITEA FOODS
19890-92A Avenue, RR 5
Langlec, BC V3A 4A8
URBAN FARE
177 Davle Street
Vancouver, BC V6Z 2Y1
Manitoba
Ontario

ACROSS THE POND BRITISH
55 Parkdale Avenue North
Hamilton, ON L8H 5W7
905-3128-617
AGRAM MEATS INC. 10676 Trafalgar Road South
Georgetown, ON L7G 4S5
905-877-6082
ALDERWOOD MEAT MARKET
880 Brown's Line
Etobicoke, ON M8W 3W2
416-251-0209
ALLISTON MEAT & DELICATESSEN
660 Bloor Street East
Mississauga, ON L5A 3V9
905-275-933
AMBROSIA NATURAL FOODS FLAGSHIP LOCATION 55 Doncaster Avenue
Thornhill, ON L3T 1L7
905-881-7811
AMBROSIA NATURAL FOODS FRANCHISEE
16925 Yonge Street
Newmarket, ON L3Y 5Y1
905-898-5262
ANGELO'S ITALIAN BAKERY & DELI
755 Wonderland Road North
London, ON N6H 4L1
519-473-7772
ANNETTE'S FINE FOODS
Shoppers World Brampton
499 Main St S
Brampton, ON L6Y 1N7
(905) 451-0353
ANN'S DELICATESSEN
650 King Street East
Oshawa, ON L1H 1G5
905-723-4111
APPLEWOOD DELI
1077 North Service Rd #11
Mississauga, ON L4Y 1A6
905-277-9752
AUSTRIAN BAKERY DELI
1235 Bayly Street
Pickering, ON L1W 1L7
905-839-7935
AVENUE FOOD MARKET
185 Avenue Road
Toronto, ON M5R 2J2
416-923-5815
BAKERY GARDEN CAFÉ
2901 Bayview Avenue
Willowdale, ON M2K 1E6
416-226-0404
BASKETCASE
7 Mohawk Avenue
Mississauga, ON L5G 3R5
905-278-1995
BENNA'S FINE FOOD
135 Roncesvalles Avenue
Toronto, ON M6R 2L2
416-534-0031
BIG CARROT NATURAL FOOD MARKET 348 Danforth Avenue
Toronto, ON M4K 1N8
416-466-2129
BIG LAND FARM LTD
1000 Burnhamthorpe Road West
Mississauga, ON L5C 2S4
905-803-8788
BLOOR MEAT MARKET LTD
2283 Bloor Street West
Toronto, ON M6S 1P1
416-767-2105
BLUE DANUBE SAUSAGE HOUSE 24 Chauncey Avenue
Etobicoke, ON M8Z 2Z4
416-234-9911
BRANDT G MEAT PACKERS LTD. 1878 Mattawa Avenue
Mississauga, ON M9W 5N4
905-279-4460
BRANSK BAKERY & DELICATESSEN INC
5980 Churchill Meadows Boulevard
Mississauaga, ON L5M 7M5
905-814-9177
CARRAVETTA FRUIT
666 Burnhamthorpe Road
Etobicoke, ON M9C 2Z4
416-626-2888
CENTRAL PARKWAY DELI & CAFÉ
377 Burnhamthorpe Road East
Mississauga, ON L5A 3Y1
905-270-5678
CHEESE BOUTIQUE 45 Ripley Avenue
Toronto, ON M6S 3P2
416-762-6292
CHEESE DAIRY
454 Bloor Street West
Toronto, ON M5S 1X8
416-533-3007
CHEESE MAGIC
182 Baldwin Street
Toronto, ON M5T 1L8
416-593-9331
CITY FISH MARKET LTD.
2929 Dufferin Street
Toronto, ON M6B 3S7
416-256-7373
CLARKSON FISH & SEAFOOD MARKET
1801 Lakeshore Road
Mississauga, ON L5J 1J6
905-823-3628
COMMISSO'S FOOD MARKET
350 Scott Street
St Catharines, ON L2N 6T4
905-935-9974?
CONCORD FOOD CENTRE 1438 Center St
Thornhill, ON L4J 3N1
905-886-2180
CRAWFORD'S PINE VALLEY
RR 22809 Hwy 7 W
Norval, ON L0P 1K0
905-451-0347
DAFERNER'S EUROPEAN
128 Sterling Road
Toronto, ON M6R 2B7
416-364-8128?
DAITER'S CREAMERY & APPETIZERS
928 Eglinton Avenue West
Toronto, ON M6A 2C7
416-787-5913
D'ALESIOS FOOD MARKET
399 Greenhill Avenue
Hamilton, ON L8K 6N5
905-561-2221?
DANCHEESE LIMITED
231 Rouge Hills Drive
West Hill, ON M1C 2Y9
416-284 -3979
DAVE YOUNG FRUIT MARKET
494 Eglinton Avenue West
Toronto, ON M5N 1A5
416-489-1118
Denninger's
Burlington, ON L7R 3M7
Hamilton, ON L8P 1A1
Oakville, ON L6L 1H7
Hamilton, ON L8L 4C7
Hamilton, ON L8G 4A8
Hamilton, ON L9C 3B3
D'OLDE STEE
15 Holland Street East
Bradford, ON L3Z 2B3
DORCHESTER MEAT PROCESSORS LTD
49 Byron Avenue
Dorchester, ON N0L 1G0
519-268-7371
DURIE MEAT
2302 Bloor Street
Toronto, ON M6S 1P1
416-762-4956
DUTCH MILL COUNTRY MARKET
533 Millgrove Side Road
Waterdown, ON L0R 2H0
905-689-7253
DUTCH-TOKO
Mountain Plaza Mall
Hamilton, ON L9C 5R8
905-383-2981
ELMWOOD MEAT MARKET 170 Lakeshore Road East
Mississauga, ON L5G 1G1
905-274-3010
EUROLINE DELICATESSEN
3055 Dundas Street West
Mississauga, ON L5L 3R8
905-820-8499
EUROPA DELI
10520 Yonge Street
Richmond Hill, ON L4C 3C7
905-508-1475
EUROPEAN DELI STOP
85 Ellesmere Road
Toronto, ON M1R 4B7
416-449-0085
EUROPEAN FINE FOOD CO
1191 Crestlawn Drive
Mississauga, ON L4W 1A7
905-206-0964
EUROPEAN GOURMET
575 Thornton Road North
Oshawa, ON L1J 8L5
905-728-2110
EUROPEAN SAUSAGE HOUSE
145 Norfinch Drive
North York, ON M3N 1W8
416-663-7413
EVERYDAY GOURMET 95 Front Street East
Toronto, ON M5E 1C2
416-363-7662
FANTASY FRUIT MARKET
1510 Lakeshore Road West
Oakville, ON L6L 1G2
905-469-0181
FARMER AL'S GROCERS
2070 Rymal Road
Binbrook, ON L0R 1P0
905-692-4451
FIESTA FARMS INC
200 Christie Street
Toronto, ON M6G 3B6
416-537-1235
FINE BAKERY & DELI INC
3011 Lake Shore Boulevard West
Toronto, ON M8V 1T8
416-255-1414
FINE KETTLE OF FISH
20 Grote Street
St Catharines, ON L2N 2E7
905-938-3474
FISHERMAN'S BROTHER LTD
71 Glen Cameron Road
Thornhill, ON L3T 1P5
905-707-8326
FITZ-HENRI FINE FOODS
1875 Leslie Street
North York, ON M3B 2M5
416-449-5707
FOOD DEPOT INTERNATIONAL INC
14 Jutland Road
Etobicoke, ON M8Z2G9
416-253-5257
FRIENDS FINE FOOD & GROCERS LTD
1881 Yonge Street
Toronto, ON M4S 1Y6
416-480-0222
GABRIEL'S FINE FOOD
15210 Yonge Street
Aurora, ON L4G 1L9
905-751-0986
GERI'S EATIN' CENTRE 1875 Leslie Street, Unit 5
Toronto, ON M3B 2M5
416-445-5504
GOODNESS ME! NATURAL FOOD MARKET
3455 Fairview Street
Burlington, ON L7N 2R4
905-637-8404
GOODNESS ME! NATURAL FOOD MARKET 1000 Upper Gage Avenue
Hamilton, ON L8V 4R5
905-388-8400
GOODNESS ME! NATURAL FOOD MARKET
176 Locke Street South
Hamilton, ON L8P 4A9
905-526-8400
GRANDE CHEESE LTD
22 Orfus Road
North York, ON M6A 1L6
416-787-7670
GREAT CANADIAN BULK FOODS
45 Overlea Boulevard
Toronto, ON M4H 1C2
416-424-3101
GRUMBLES DELI-CAFÉ SHOP
290 Main Street
Toronto, ON M4C 4X5
416-693-6887
HARVEST BARN COUNTRY MARKET
1179 Fourth Ave
St Catharines, ON L2S 3P4
905-641-1666
HENRY'S DELICATESSEN
12 Simcoe Street North
Oshawa, ON L1G 4R8
905-728-5487
HERB HOUSE
3232 Eglinton Avenue East
Scarborough, ON M1J 2H6
416-261- 9954
HIGH PARK DELI EXPRESS 1960 Blor Street West
Toronto, ON M6P 3K9
416-769-3223
HIGHLAND FARMS
HOUSE OF SPICE
190 Augusta Avenue
Toronto, ON M5T 2L6
416-593-9724
HUDSON'S BAY COMPANY
176 Yonge Street
Toronto, ON M5C 2L7
416-861-9111
HUGO'S MEAT MARKET
743 The Queensway
Etobicoke, ON M8Z 1M8
INGLEWOOD GENERAL STORE
15596 McLaughlin Road
Inglewood, ON L0N 1K0
905-838-4386
ITALO FOODS
1601 River East
Kitchener, ON N2A 3Y4
519-896-1381
J CZECHOWSKI POLISH
935 The Queensway
Etobicoke, ON M8Z 1P3
416-252-1965
JOE'S MEAT MARKET & DELI
180 Fares Street
Port Colborne, ON L3K 1W4
905-834-4744
JOHN VINCE SUPERMARKET
910 St Clair Avenue West
Toronto, ON M6C 1C6
416-652-0530
JUBILEE FRUIT MARKET
104 Allan Street
Oakville, ON L6J 3N1
905-842-0378
KARL'S BUTCHER &GROCERY
105 Roncesvalles Avenue
Toronto, ON M6R 2K9
416-531-1622
KARPATY FINE FOODS INC. 190 Bovaird Drive West
Mississauga, ON L7A 1A2
905-451-0221
KEITHS FINE FOODS
3279 Yonge Street
Toronto, ON M4N 2L8
416-932-8888
KESSLER'S SWISS PASTRIES LTD.
22 Levendale Road
Richmond Hill, ON L4C 4H2
905-883-5421
KITCHEN TABLE 12 Queens Quay West
Toronto, ON M5J 2V7
416-778-4800
KOSHER CITY PLUS INC.
3468 Bathurst Street
North York, ON M6A 2C4
416-782-6788
LA ROSE ITALIAN BAKERY
327 Bronte Street South
Milton, ON L9T 4A4
905-875-0303
LA ROSE ITALIAN BAKERY & DELICATESSEN
327 Bronte Street South
Milton, ON M9P 1B2
905-875-0303
LADY YORK FOODS
2939 Dufferin Street
Toronto, ON M6B 3S7
416-781-8585
LEIN DELICATESSEN LTD
3262 Lakeshore Blvd West
Toronto, ON M8V 1M4
416-251-5858
LEXIE EUROPEAN DELI
145 Kingston Road East Unit 4
Ajax, ON L1S 7J4
905-428-3891
LILY'S EUROPEAN
978 Pape Avenue
East York, ON M4K 3V7
 Loblaws
Longo's
LONGO'S YORK MILLS
808 York Mills Road
Toronto, ON M3B 1X8
416-385-3113
M & H FISH MARKET
5051 Highway 7
Markham, ON L3R 1N3
905-479-3571
MAINLY CHEESE
989 Westney Road South
Ajax, ON L1S 3K7
905-686-2461
MAK EUROPEAN DELICATESSEN 1335 Lawrence Avenue East
Toronto, ON M3A 1C6
416-444-0719
MAPLE LEAF FUDGE CORP
114 Queen Street
Niagara On The Lake, ON L0S 1J0
905-468-2211
MARILU'S MARKET
4025 New Street
Burlington, ON L7L 1S7
905-639-0319
MARKHAM MEAT & DELI
5694 Hwy # 7 East
Markham, ON L3P 1B4
905-294-2522
MARVELLOUS EDIBLES 120 Laird Drive
Toronto, ON M4B 1N1
416-421-8228
MAUNDERS FOOD SHOP
15543 Yonge Street Unit 4
Aurora, ON L4G 1P3
905-841-5746
MERCATOR EURO MINI MART
3115 Sheppard Avenue East
Toronto, ON M2J 5B3
416-495-0365
MICHAEL-ANGELO'S MARKET PLACE INC. 8555 Woodbine Ave
Markham, ON L3R 4X9
905-307-8555
MICHAEL-ANGELO'S MARKET PLACE INC.
4099 Erin Mills Parkway
Mississauga, ON L5L 3P9
905-820-3300
MY COUNTRY DELICATESSEN
4351 Queen Street
Niagara Falls, ON L2E 2K9
905-358-3098
NARDINI SPECIALTY
420 Highway 8
Stoney Creek, ON L8G 1G1
905-662-5758
NICOLA'S CHOICE MEAT
298 Eglinton Avenue West
Toronto, ON M4R 1B2
416-485-4429
NKM CHAPMAN'S
309 York Mills Road
Willowdale, ON M2L 1L3
416-444-4477
NORTOWN FOODS LTD
892 Eglinton Avenue West
Toronto, ON M6C 2B6
416-789-2921
NORTOWN MEATS & SPECIALTIES LTD
303 York Mills Road
Thornhill, ON L4J 4P8
416-447-0310
NUTCRACKER SWEET
1936 Avenue Road
Toronto, ON M5M 4A1
416-782-3232
OAKVILLE GOLDEN GROCERS
2427 Trafalgar Road
Oakville, ON L6H 6K7
905-257-2578
OLD COUNTRY SHOP
355 Roncesvalles Avenue
Toronto, ON M6R 2M8
416-535-7641
OLYMPIC CHEESE FACTORY
7780 Woodbine Avenue
Markham, ON L3R 2N7
905-944-8676
PAM'S COFFEE & TEA
55 Ontario Street South
Milton, ON L9T 2M3
905-878-5722
PAM'S COFFEE & TEA CO
55 Ontario Street South
Milton, ON L9T 2M3
905-878-5722
PARKWAY FINE FOOD
881 Eglinton Avenue West
York, ON M6C 2C1
416-781-6743
PASCALE GOURMET
2393 Yonge Street
Toronto, ON M4P 2E7
416-489-8546
PASQUALE'S SUPERMARKET
210 Marlee Avenue
Toronto, ON M6B 3H6
416-782-3300
PASTACO INC
1140 Sheppard Avenue West
North York, ON M3K 2A3
416-630-3635
PAUL SHANNON CATERERS
95 East Beaver Creek Road
Richmond Hill, ON L4B 1L4
905-731- 1380
PAUL'S FISH & MEAT MARKET
467 Guelph Line
Burlington, ON L7R 3L8
905-333-9639
PIAST DELI LIMITED
2530 Sixth Line
Oakville, ON L6H 6W5
905-257-2292
PICONE'S FOOD MARKET
34 King Street West
Dundas, ON L9H 1T7
905-707-5303
PRIME CUTS
310 Garrison Road
Fort Erie, ON L2A 1M7
905-994-1775
PUNJAB FOOD MARKET
270 Ottawa Street North
Hamilton, ON L8H 3Z9
905-544-0417
PUSATERI'S FINE FOODS 1539 Avenue Road
Toronto, ON M5M 3X4
416-785-9100
PUSATERI'S FINE FOODS
57 Yorkville Avenue
Toronto, ON M5R 3V6
416-785-9100
REITHER'S FINE FOOD INTERNATIONAL
530 Church Street
Toronto, ON ON M4Y 2E1
416-961-3892
RH EUROPA DELI
10737 Yonge Street Unit 19B
Richmond Hill, ON L4C 3E3
905-508-3273
RODNEY'S OYSTER HOUSE 469 King Street West
Toronto, ON M5V 1K4
416-363-8105
SAUTER'S INN RESTAURANT
109 Old Kingston Road
Ajax, ON L1T 3A6
905-427-6760
SCHEFFLER'S DELICATESSEN
92 Front Street East
Toronto, ON M5E 1C3
416-364-2806
SCHINKELS MEAT MARKET
145 Richmond Street
Chatham, ON N7M 1P1
519-351- 2117
SMAK DELI & BAKERY
320 Main Street North
Brampton, ON L6V 4A3
905-457-1295
SNAPPERS FISH MARKET INC.
263 Durie Street
Toronto, ON M6S 3G2
416-767-4083
Sobey's (Selected Markets)
SPRINGER'S MEAT & DELI
19 Morley Street
Hamilton, ON L8H 3R6
905-549-8884
ST CLAIR DELICATESSEN
748 St Clair Avenue West
Toronto, ON M6C 1B5
416-656-3980
ST PATRICK GROCERY
244 Queen Street West
Toronto, ON M5V 1Z7
416-598-2436
STAMFORD DELICATESSEN LTD 525 Welland Avenue
St. Catharines, ON L2M 6P3
(905)228-1440
STARI GRAD
3862 Bloor Street West
Etobicoke, ON M9B 1L1
416-916-2075
STAROPOLSKIE DELIKATESY
711 Barton St. E
Hamilton, ON L8L 6P9
905-545-4955
STARSKY FOODS INC
2040 Dundas Street East
Mississauga, ON L4X 2X8
905-279-8889
STARSKY FOODS INC
3115 Dundas Street West
Mississauga, ON L4X 2X9
905-279-8889
STRICKLY BULK
2389 Bloor Street West
Toronto, ON M6S 1P6
416-766-3319
SUGAR & SPICE
265 Augusta Avenue
Toronto, ON M5T 2M1
416-593-1664
SUN VALLEY FINE FOODS
583 Danforth Avenue
Toronto, ON M4K 1P9
416-469-5227
SUNGLOW BAKERY
2226 Bloor Street West
Toronto, ON M6S 1N6
416-762-3036
SUNNY VILLE FOOD MARKET
1881 Yonge Street
Toronto, ON M4S 1Y6
416-480-0222
SUPER KOLBASA & DELI
3615 Dixie Road
Mississauga, ON L4Y 4H4
905-206-1646
THE BEACH'S WHOLESOME
2234 Queen Street East
Toronto, ON M4E 1G2
416-690-9500
THE BRICK OVEN BAKERY LTD
2501 Guelph Line
Burlington, ON L7M 2A3
905-336-2799
THE DELI BASKET
656 Finch Avenue East
North York, ON M2K 2E6
416-229-0095
THE FINNISH PLACE
5463 Yonge Street
Willowdale, ON M2N 5S1
416-222-7575
THE GARDEN BASKET STORE LOCATION
9275 Markham Road
Markham, ON L6E 1A1
905-471-0777
THE HOCKLEY GENERAL STORE
Townline R R #5
Orangeville, ON L9W 2Z2
519-938-8620
THE HORN OF PLENTY
24 King Street West
Dundas, ON L9H 1T7
905-627-9980
THE MERCANTILE 297 Roncesvalles Avenue
Toronto, ON M6G 1B4
416-531-7563
THE SAUSAGE & MEAT BOUTIQUE
586 Bloor Street West
Toronto, ON M6G 1K4
416-588-8014
TUTTI FRUTTI FAMOUS FOODS
64 Kensington Avenue
Toronto, ON M5T 2K1
416-593-9281
VIENNA FINE FOODS
1050 Birchmount Road
Scarborough, ON M1K 1S4
416-759-4481
VILLAGE GOURMET AND DELI
5999 Bathurst Street
Willowdale, ON M2R 1X3
416-227-0707
VINCE'S EUROPEAN DELICATESSEN 130 Davis Drive
Newmarket, ON L3Y 2N1
905-895-5571
VINCE'S MARKET
869 Mulock Drive
Newmarket, ON L3Y 8S3
905-853-3356
VINCE'S MARKET
19101 Leslie Street
Sharon, ON L0G 1V0
905-478-8241
VITA HEALTH FOODS
3714 Portage Road
Niagara Falls, ON L2J 2K9
905-357-1094
WALKER'S FRUIT MARKET
15796 Niagara Parkway
Niagara-On-The-Lake, ON L0S 1J0
905-468-2767
WARMIA DELI LTD
1900 Dundas Street East
Mississauga, ON L4X 1L9
905-270-7182
WETHERBY'S
149 Church Street East
Acton, ON L7J 1L3
519-853-1633
WHAT A BAGEL
558 Yonge Street
Toronto, ON M4Y 1Z1
416-924-9646
WILLY'S MEATS AND
2500 Hurontario Street
Mississauga, ON L5B 1N4
905-270-4206
ZARSKY'S FINE FOODS
558 Concession Street
Hamilton, ON L8V 1A9
905-383-5141
GERMAN TOWN DELI
212 Slater St Ottawa, ON K1P5H8
(613) 234-7899

Quebec

Metro
Zehr's
Fortinos
 Saskatchewan