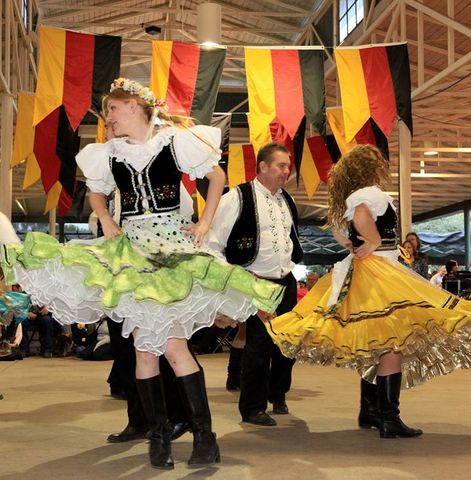 The Munich Oktoberfest was cancelled for the second year due to the coronavirus pandemic. Whether 2021 Oktoberfest celebrations in North America will happen is unknown at this time. We're keeping this list of North American Oktoberfests alive for informational purposes, but be advised that links are not currently live, and many of the organizations have (temporarily, we hope) shut down their sites. We anticipate knowing more in late summer, when 2021 Oktoberfest prospects may be more clear.
Known as the world's largest public festival, the Munich Oktoberfest is enjoyed each year by more than six million visitors. It runs for 16 days each year — three weekends and the days between — from late September into early October. Fortunately, for those of us who can't make it to die Wiesn ('the Meadow') for the world's biggest party, each year there are more than 150 Oktoberfests in North America — from New York to Seattle, and from Kitchener-Waterloo to Vancouver. With 16% of the US population and about 10% of Canadians claiming German ancestry, it's no wonder the annual celebration of German culture, food and drink is such a popular annual event!
Find an Oktoberfest Near You
Search the list below to find an Oktoberfest event near you. The list is sorted alphabetically by state or province. Keep Us Up to Date! Add / Modify a Oktoberfest Listing We work hard to keep our database up to date, but businesses are constantly changing. Please help us by letting us know about openings, closing, or changes of venue. We try to keep all contacts up to date, but we can get it wrong, too. Before making the trip, check the web to check dates, hours and details.
Birmingham Oktoberfest
Birmingham, AL
The Freunde Deutscher Sprache und Kultur (FDSK) German Culture Club has hosted a traditional Bavarian-style Oktoberfest in downtown Birmingham annually since 1969. Southeast Tourism Society listed the FDSK Birmingham Oktoberfest as "One of the Top Twenty Events in the Southeast" four consecutive years, 1986-89. Also celebrating Christmas Markets in December! For more information, visit the Birmingham Oktoberfest site.
Cullman Oktoberfest
Cullman, AL
Strike up the oompah band! Dust off the lederhosen and dirndl! And roll out the root beer keg! Cullman, Alabama, is getting ready for its annual Oktoberfest. The city's German heritage, tradition and values emerge in full bloom.
Come to the Festhalle, center of daily fun, food, music and dancing.
The unique Cullman Festhalle is near the center of town and by the Col. Cullman Museum. For more information, visit the Cullman Oktoberfest site.
Fort Rucker Oktoberfest
Fort Rucker , AL
Howze Field Across from Aviators' Landing on Novosel St. Oktoberfest Celebration German Music, Schnitzel, Bratwurst, Authentic German Beer, Vendors, Games, need we say more. The party of all parties you don't want to miss!! 334-255-1749. For more information, visit the Fort Rucker Oktoberfest's Facebook page!
Baehr Challenge Phoenix Oktoberfest
Phoenix, AZ
A block party celebration that will include brats, of course, live music, authentic Oktoberfest games, plenty of craft ales, selection of fine wines, spectacular raffle basket prizes and fun to help make a difference for a good cause. The proceeds help fund scientific research to find better treatments and a cure for Parkinson's and support local organizations that guide and serve people with Parkinson's, their care partners and families. Baehr Challenge Phoenix Oktoberfest site.
Port Alberni Oktoberfest
Port Alberni, BC
Oktoberfest is a time of music and merrymaking featuring The Alpiners Band from Vancouver BC., under the direction of Al Pichler. This versatile group plays everything from oompapa to sing-a-longs and modern tunes. The Edelweiss Dancers provide entertainment with the Schuplattler dancers from the Bavarian and Tyrolean Alps. The Silverstar Band also from Vancouver, BC., are known to be quite versatile in their playing as well, from old-fashioned polkas or waltzes to rock music. Check back in late summer for updated information.
Annual Tyrolean Inn Oktoberfest
Ben Lomond, CA
Come and join us for a special Oktoberfest Menu and of course beer and Bavarian Pretzels. Contests include beer stein holding and a pretzel count. We also have gag photography. Four bands will be providing traditional and contemporary music. For more information, visit the Annual Tyrolean Inn Oktoberfest site.
Annual Big Bear Lake Oktoberfest
Big Bear Lake, CA
For six and a half weekends every Fall a very special extended family comes together in Big Bear for Southern California's party of the season and you're invited to join the celebration! The Big Bear Lake Oktoberfest commemorates the traditions of a simpler era. A time when family and friends offered happiness and enjoyment. For more information, visit the Annual Big Bear Lake Oktoberfest site.
Annual Campbell Oktoberfest
Campbell, CA
This festival draws over 40,000 people so come early and expect to stay all day as you visit over 100 arts and crafts booths. Vendors offerings include traditional creations such as jewelry, photography, paintings and wood crafts. Spaten Beer representatives will be pouring an official Oktoberfest beer dating back to 1810 and the days of King Ludwig. German foods, including many types of Bratwurst, plus German potato salad and sauerkraut and red cabbage will delight the taste buds. For more information, visit the Annual Campbell Oktoberfest site.
Clayton's Annual Oktoberfest Celebration
Clayton, CA
Clayton Business & Community Association invites you to experience Oktoberfest "Munich Style" in picturesque Clayton, CA. Set under beautiful Mt. Diablo, it evokes a feeling of Bavaria.
Grab your steins and get ready for 2 fun filled days!street performers, marionette shows, continuous live music featuring The Internationals, traditional Biergarten, great German food and beer, premium California wines, large arts and crafts show, carnival For more information, visit the Clayton's Annual Oktoberfest Celebration site.
Cotati Oktoberfest
Cotati, La Plaza Park, CA
Get out your lederhosen and practice your yodeling for the upcoming Cotati Oktoberfest. Wunderbar German food and beer, plus the oom-pah-pah of Karl Lebherz Band. Polka to your heart's content on our dance floor.
La Plaza Park, downtown Cotati at the corner of Old Redwood Hwy. & W. Sierra Ave., under a giant tent!
For more information, call the Cotati Chamber of Commerce at (707) 795-5508 or email [email protected], or visit the Cotati Oktoberfest site.
Oktoberfest in the Gold Country – Grass Valley
Grass Valley, CA
Enjoy German food and dance.
For more information, visit the Oktoberfest in the Gold Country – Grass Valley site.
German Fest
Hayward, CA
Live music by the Deutscher Musik Verein, San Francisco and The Edelweiß Band, performances by Almenrausch Schuhplattler and Naturfreunde Schuhplattler, Fahneneinmarsch of the German Clubs (flag ceremony), good German food, Bavarian beer, Californian wine Puppet Show and Children's Crafts, great raffle and vendors. For more information, visit the German Fest site.
Oktoberfest at Old World Village
Huntington Beach, CA
Since 1978, Oktoberfest has had its roots right here in Huntington Beach. Complete with German bands imported from Europe, dancing, and imported beers (of course) and tasty German foods from bratwurst to potato salad to hot pretzels and apple strudel, Oktoberfest has something for everyone. Even you can join in on all the fun and even learn the infamous "chicken dance." For more information, visit the Oktoberfest at Old World Village site.
Oktoberfest in the Dimond
Oakland, CA
The highlight of the festival is the large outdoor beer hall, housing a beer tasting area, where premiere
breweries will be pouring their finest brews. Attendees will have the opportunity to purchase beer
packages which will include a commemorative festival stein to taste locally produced beers such as
Oakland's own Linden Street Brewery and Berkeley's Triple Rock Brewery. For more information, visit the Oktoberfest in the Dimond site.
Oktoberfest in Petaluma
Petaluma, CA
Traditional Oktoberfest with Gemütlichkeit, German food, Pretzels and great raffle prizes. Dance to the music of Tony Raymann and his Edelweiss Band. Entertainment by the Schuhplattler Folk Dancers. For more information, visit the Oktoberfest in Petaluma site.
San Diego Oktoberfest
San Diego, CA
The German-American Societies of San Diego present their annual Oktoberfest with German live bands, foods and beverages, as well as kid's entertainment. For more information, visit the San Diego Oktoberfest site.
Vail Oktoberfest
Vail, CO
The Town of Vail is hosting two full weekends of oompah parties, lively demonstrations and traditional German fare in Lionshead and Vail Village. Festivities include brat-eating and keg-decorating contests, yodeling and alpine horn blowing, and Bavarian dancing. Oktoberfest is six fun-filled days the whole family will enjoy. For more information, visit the Vail Oktoberfest site.
The Hartford Saengerbund German Bierfest
Newington, CT
Home made Potato Pancakes, German Beer, German Wurst, Sauerkraut, German baked goods, Schuhplattlers & German Musik. Band from Bavaria, Germany: Schwabenmusikanten. For more information, visit the The Hartford Saengerbund German Bierfest site.
The Harugari Oktoberfest
West Haven, CT
Home made Potato Pancakes, German Beer, German Wurst, Sauerkraut, German baked goods, Schuhplattlers & German Musik. For more information, visit the The Harugari Oktoberfest site.
Delaware Saengerbund Oktoberfest
Newark, DE
German specialties include grilled Bratwurst (pork sausage), Weisswurst (veal sausage), Frankfurters, BBQchicken, pretzels and "Rollmops", a marinated herring served with rye bread. The "Enzian Volkstanzgruppe", the Bavarian dance group of the Delaware Saengerbund, will entertain at intervals during the festival. They perform in the colorful "Tracht" – the traditional costume patterned after the distinctive style of Miesbach in Bavaria. The men wear "Lederhosen" – buck skin leather pants – the women a "Dirndl" – a dress consisting of several parts: skirt, blouse, vest, apron, shawl, completed with a special hat. German music is provided throughout the weekend for dancing. For more information, visit the Delaware Saengerbund Oktoberfest site.
Cape Coral Oktoberfest
Cape Coral, FL
Six days of Gemütlichkeit (comfort in a festive atmosphere), laughter, singing and dancing, along with delicious food and beverages, games and entertainment for the whole family. For more information, visit the Cape Coral Oktoberfest site.
Annual Lake Worth Oktoberfest
Lake Worth, FL
Our "Original "Oktoberfest" is one of the largest in the country! Held on ten acres of ground, under our new pavilion and massive tent. Bands from Germany, ethnic entertainment, authentic German food and imported German beer and wine along with arts and crafts, souvenirs and a carnival for kids and adults welcome 30,000 guests over two weekends. For more information, visit the Annual Lake Worth Oktoberfest site.
Oktoberfest Miami
Miami, FL
For more information, visit the Oktoberfest Miami site.
Alpine Helen Oktoberfest
Helen, GA
The biggest Oktoberfest-Party in the Southeast that lasts two months. Located within walking distance of most hotels, Helen's Festhalle is the spot for authentic German bands, food, beer, and fun. For more information, visit the Alpine Helen Oktoberfest site.
Amana Oktoberfest
Amana, IA
Located in the heart of the Village of Amana, the Festhalle, one of Amana's great barns, has been restored to house Oktoberfest as well as other events. It was built in 1900. A portion of the gate receipts goes to continued restoration. For more information, visit the Amana Oktoberfest site.
Annual Oktoberfest in Remsen
Remsen, IA
Oktoberfest is Bavarian entertainment with Polka Bands, a Beer Garden, an Arts and Crafts show and a large Family Style ethnic Luxembourger meal served by Remsenites in Bavarian garb. We invite everyone to visit northwest Iowa and share the good times at Remsen Oktoberfest! Starting with humble beginnings in 1974, Remsen's Oktoberfest now serves over 2,500 people the last Saturday in October (the weekends always the same). For more information, visit the Annual Oktoberfest in Remsen site.
Chicago Oktoberfest
Chicago, IL
Beer, brats, music and fun at St. Alphonsus´ Annual Oktoberfest, one of the original premier festivals in Chicago! Keeping with tradition, festival-goers can expect homemade bratwurst, the "oompah" of German bands, the music of top area headliner bands, activities for kids ("Kinderfest"), and of course lots of great beer! Held outdoors in a beer garden fashion under a 'big-top' tent. For more information, visit the Chicago Oktoberfest site.
Peoria Oktoberfest
Peoria, IL
Our Oktoberfest is a cooperative partnership with the Peoria German-American Central Society and the Peoria Park District, and features German culture with authentic food, music and of course, German beer. We have a heritage tent, a puppet theater, carnival with children activities, plenty of music with dancing…it's fun for all ages! For more information, visit the Peoria Oktoberfest site.