Baden-Württemberg is Germany's 3rd most populous state with 10.7 million inhabitants. It lies in the southwestern part of Germany, and its capital is the city of Stuttgart. Other notable cities include Mannheim, Karlsruhe, Heidelberg, Ulm, Pforzheim, Ludwigsburg and Freiburg in the Black Forest. Additionally there is the famous spa city of Baden Baden! Known for it's superlatives, it boasts the world's largest number of per-capita patent registrations and exports, the lowest insolvency and unemployment rate in Germany, the most solar installations, the youngest population and is considered to be the center of high-tech industry in Europe.
Excellence in Food
Baden-Württemberg's superlatives extend beyond just business and the economy. It is the second most popular tourist destination in all of Germany and is renowned for its gourmet cuisine. No other area in Germany has as many Michelin-rated restaurants as Baden-Württemberg. More than a quarter (52) of the 190 German restaurants that have been awarded Michelin stars in the country are located in Baden-Württemberg. One of Germany's top restaurants, the 3-star rated Traube Tonbach, is also located here. This restaurant is well-known not just for its food, but for the fact it has been in business since 1789!
Regional Culinary Specialties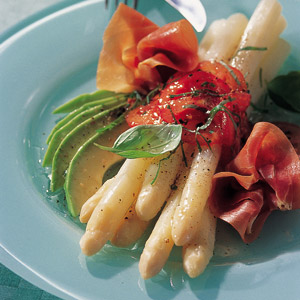 When it comes to cuisine, Baden-Württemberg has a range of regional culinary specialties as diverse as the areas from whence they come. On a culinary tour of the state you can sample the refined cuisine of Baden and follow the the famous Badische Spargelstrasse (The Baden asparagus route) and the Badische und Württembergische Weinstrasse (wine route). These are 'routes' along which many asparagus fields and vineyards lie, ripe for the tasting for visitors! You could also experience the traditional hearty cuisine in the southern region of Swabia, known for the classic Spätzle noodles and Maultaschen, which mimics the Polish pierogi. Equally famous are the traditional dishes of the Black Forest, famous the world-over for it's ham, chocolate cake and delicious cherry brandy.
Badische Küche (Dishes from Baden)
The city of Baden within Baden-Württemberg has, like most cities, its own particular flavor. Here we will list some of the most popular and beloved dishes from this area! Badische Schäufele is cured, smoked shoulder of pork which is perfect for a supper. Badische Zwiebelsuppe  is a creamy onion soup that will keep even the coldest person warm on a winter night. Much like in America, Brägele, or Fried potatoes, are a popular and versatile dish. Two hor d'oeuvres that are popular are Bibbeliskaes, cottage cheese made with onions and herbs, and
Bubespitzle (also known as Schupfnudeln and Fingernudeln), potato fingers made with flour and mashed potatoes. A French-inspired recipe is Schneckensuppe, or snail soup, which has origins in the French cuisine of Escargot. For a a sweet dessert one will turn to Badischer Zwetschgenkuchen, which is a German plum cake. Some of Germany's best plums come from Baden, and as such it's a popular choice! Finally, White Asparagus is one of Baden-Württemberg's most famous dishes. Two of the most famous asparagus-producing areas in Germany lie in Baden-Württemberg, namely Schwetzingen and Bruchsal. Schwetzingen, which lies south of Heidelberg claims to be the "Asparagus Capital of The world". Bruchsal, near Karlsruhe in Baden-Württemberg boasts the largest asparagus market in Europe. Naturally, then, the asparagus in this area is incredible!
Schwäbische Küche (Schwabian Dishes)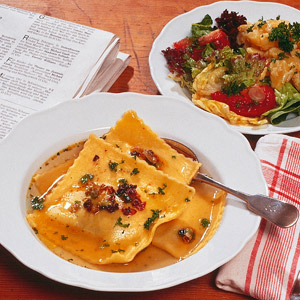 Spätzle is a type of noodle made from flour, salt, water and eggs. It gets its unique and characteristic shape by spreading the dough onto a board (Spätzlebrett) and scraping it into a pan of boiling water using a Spätzlesschaber (Spätzle scraper) or knife. The resulting pieces of cooked dough then rise to the surface and are retrieved using a slotted spoon. This is of course a very time-consuming method of making Spätzle. An alternative method is to use a Spätzlepresse (Spätzle press) or a Spätzlehobel which is a slotted plate through which you can press the dough! Of course, the easiest way to prepare Spätzle is to purchase it ready made and cook it in water. Spätzle is eaten as a side dish in place of rice, potatoes or pasta. It is also used to make salads and main dishes such as Käsespätzle, which is made by adding German Emmentaler and Bavarian mountain cheese and onions to the hot Spätzle. Maultaschen is composed of pockets of dough that are stuffed with various fillings such as spinach, meat or cheese. They are eaten in a beef broth or soup or also as a main course. While Maultaschen appear to be an imitation of Italian ravioli, there are many legends surrounding their origin. It is said that in the 17th century, monks from the Maulbronn monastery were looking for a way to to hide meat from God during Lent, when they were supposed to be fasting, so they mixed the meat with spinach and herbs and hid the mixture in dough pockets, thus creating the Maultaschen. Gaisburger Marsch is a beef stew with vegetables, potatoes and Spätzle and is named after a suburb of Stuttgart. A less-sweet dessert is Pfitzauf, which is unsweetened meringue dessert served with fruit compote! Hutzelbrot is a bread made with dried fruits and nuts, especially dried pears. The name comes from the word Hutzeln, which is the Swabian word for dried pears. A Swabian variety of wedding soup, called Schwäbische Hochzeitssuppe, is made with spicy beef stock, pancake strips, Maultaschen, marrow dumplings and semolina dumplings, seasoned with chives and ground nutmeg! Schwäbischer Zwiebelkuchen (Rahmkuchen), or an onion pie, is made with a yeast dough base, topped with onions, eggs, cream and bacon. It is most commonly eaten in the fall and is a typical accompaniment to Federweisse, a young wine that has just begun to ferment. Finally, Flädle, similar to pancakes, is flatbread cut into strips, while Flädlesuppe is a soup made with broth and these strips of pancake (flatbread)!
A Beloved Cake
Schwarzwälder Kirschtorte (Black Forest Cake)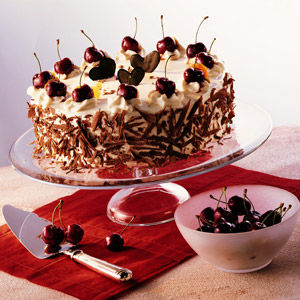 is perhaps Germany's most well-known and most-loved cake. It consists of a chocolate cake with a filling of fresh cream and cherries soaked in Kirschwasser, a clear cherry schnapps that is a specialty of the Black Forest. The cake is decorated with cream, chocolate shavings and cherries. While this cake bears the name of the area of Germany known as the Black Forest, a pastry chef from Bad Godesberg, near Bonn, claims to have invented it in 1915. He was originally from Lake Constance, which is in the Black Forest, so that's possibly why he named it Black Forest Cake. There are a number of other theories as to how the cake got its name. Firstly, the chocolate shavings on the top of the cake resemble a black forest. Then, perhaps, the name was thought up because the cake contains Kirschwasser, which is a specialty of the Black Forest. And last but not least, there's a theory that the name came from the traditional dress of the women in the Black Forest which consists of a black dress, white blouse and a hat with a white base and red balls on top resembling the cherries!
A Specialty from the Black Forest
Schwarzwälder Schinken (Black Forest Ham)
 is a variety of smoked ham produced in the Black Forest region of Germany, as its name implies. The ham is made from the choice part of the hind leg and is salted and seasoned with garlic, coriander, pepper, juniper berries and other spices. After curing for two weeks, the salt is removed and the ham cures for another two weeks. The ham is then cold smoked for up to nine months. The smoking process allows it to develop its pronounced flavor and rich color. The term "Black Forest ham" is a Protected Geographical Indication in the European Union, meaning that only ham from the Black forest may be sold as "Black Forest ham" in the EU. Finally, Kirschwasser, literally "cherry water", is a brandy specialty from the Black forest, often known as just "Kirsch." This drink is made from distilling fermented black cherry juice. While the cherries can be either sweet or sour, the sour morello cherry (Schattenmorellen) is most commonly used. Since these type of cherries were originally grown in the Black Forest region, Kirschwasser is thought to have originated there. Kirschwasser is most often served cold, in a small glass, as an aperitif, although it is also enjoyed at room temperature like other brandies.
Additional Links
Recipe Collection of Traditional Baden-Wuerttemberg Recipes
Additional German Regions and Specialities
Products from Baden-Wuerttemberg