Bavaria's 12.5 million inhabitants, living in an area roughly the size of South Carolina, are culturally divided between the North and South. This is clearly evidenced through the different language patterns and dialects, conservative versus liberal attitudes and, of course, cuisine! View recipes showcasing the diversity of Bavarian food at Recipes from Bavaria.
A Protected Specialty
Lebkuchen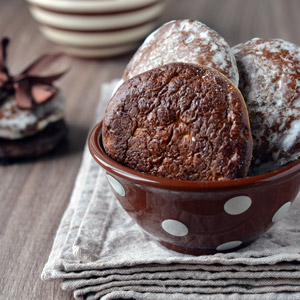 were first baked in the city of Nuremberg, with the earliest records dating to the year 1395. During the Middle Ages, spice inspectors at the gates to the city checked the spices used for baking the gingerbreads which traveled to places as far away as China. In 1643 the city of Nuremburg approved the first Lebkuchen Baker's Guild which began with 14 master gingerbread bakers who were bound by strict regulations. Until 1867, Lebkuchen were made by hand. Automated processing started thereafter with the liberalization of Bavaria's commercial trade. However, many of Nuremburg's bakeries still produce some of their Lebkuchen specialties by hand, using traditional recipes passed down from generation to generation. The oldest gingerbread recipe, dating from the 16th century, is housed in the German National Museum in Munich. In 1996, Nuremburg gingerbread was declared a "protected geographical indication" and is authorized to use the EU stamp. The main ingredients of Lebkuchen are: honey, flour, sugar, eggs, hazelnuts, walnuts, almonds, candied orange and lemon peel, marzipan, spices (cinnamon, ginger, aniseed, cloves, pimento, coriander, cardamom). Today, the city hosts Germany's major gingerbread exporters, like Lebkuchen Schmidt, Burg-Lebkuchen, Haeberlein-Metzger, Weiss Lebkuchen, Ifri-Schuhmann-Lebkuchen, Wicklein-Lebkuchen and Wolff Lebkuchen.
Bavarian Sausages (Wurst) and Meat (Fleisch)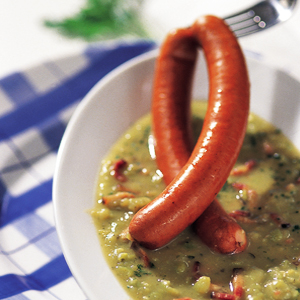 Fränkische Bratwurst (Franconian sausage) is a popular sausage of North Bavaria. The sausage is typically roasted, prepared as so-called Blaue Zipfel (boiled in vinegar with onions) or smoked. The sausage is about six inches long. A traditional Fränkische Bratwurst is served with Sauerkraut and German potato salad. But it is also very tasty with freshly baked farmhouse bread, horseradish and a cold beer. Coburger Bratwurst, available in the beautiful medieval town of Coburg, consists of a combination of pork and a minimum of 15 percent beef. This sausage is bigger, at about ten inches long. Nürnberger Rostbratwurst (Nuremberg sausage), in contrast, are small sausages, coarsely chopped up and grilled. Quantities of 6, 9 or 12 sausages are frequently served, together with sauerkraut or green cabbage and a pretzel. Another way of eating them is three small sausages served together with mustard in a roll. Nürnberger Rostbratwurst is finer and smaller than the usual German Bratwurst, only about 3 inches in length and a little over half an inch in diameter. One story says the diameter of Nuremberg Rostbratwurst is so small because years ago the sausage was used to feed prisoners of the Nuremberg prison Lochgefängnis. Relatives of the prisoners, reportedly, passed the sausages through the cell keyhole!
Schnitzel, Weißwurst and Cheese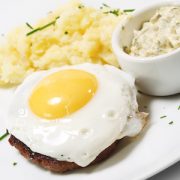 Schnitzel, a word common in America but often misunderstood, is a thin, tenderized meat that is breaded and then fried. In Bavaria, schnitzel is made either from pork or veal and served in a variety of ways, from Wiener Art (breaded with lemon) to Jäger Art (with mushrooms and peppers). It is a classic dish that is both filling and delicious! Weißwurst are white sausage made from finely minced veal and pork bacon. Traditionally, this sausage was consumed only before noon time and washed down with a Weißbier, the light and tasty Bavarian wheat beer! Today, Weißwürste and Weißbiere can be ordered at any time of the day (or night) thankfully! Another typically Bavarian food is "Obatzda," a cheese spread made from camembert mixed with other cheeses, onions and spices. Obatzda is usually served with rye bread or pretzels, and makes a great spread at BBQs and gatherings to watch Fußball!
Bavarian Spätzle
Spätzle literally translated means "little sparrows" in the Southern Bavarian dialect. This well-known dish consists of tiny noodles or dumplings made of flour, eggs, water or milk, salt and occasionally nutmeg. In Bavaria, Spätzle and chanterelles is a frequent side dish to fall game entrees such as deer, rabbit and boar, all of which are popular in the more rural Bavaria. Spätzle is a filling dish, and as such it does not taking a huge serving size to fill someone up, especially when paired with a good Bavarian bier!
Bavarian Beer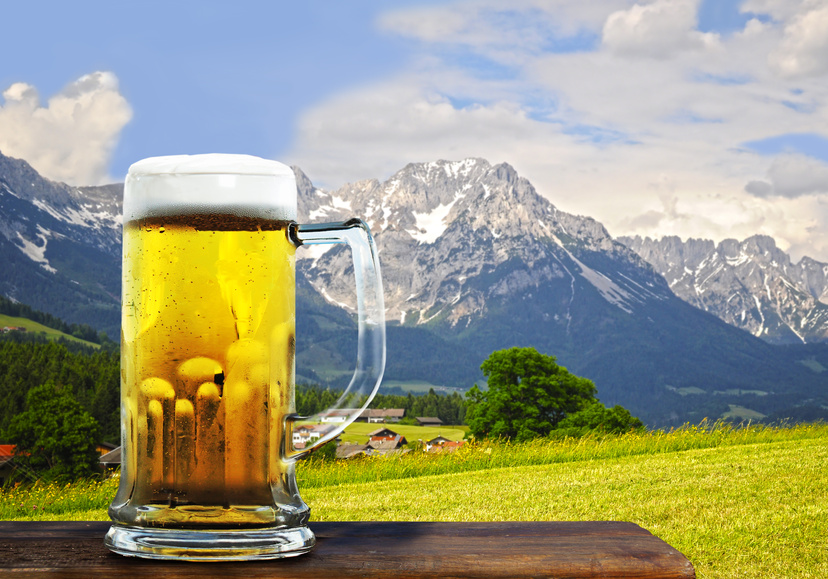 Beer is Bavaria's most well known (and popular) product. In 2014, the per capita consumption of beer in Germany averaged 104.7 liters. Almost half of Germany's breweries are located in the Free State, which is an old term for the region of Bavaria. In 2006, Bavaria listed 618 breweries. Famous Bavarian beers imported to the USA and Canada are Ayinger, Hofbräu, Franziskaner, Schneider, Löwenbräu, Hacker Pschorr, Weihenstephan, Tucher, Paulaner and others. (Read more about these Bavarian beers in our articel on Oktoberfest Beer.) Bavaria loves beer production so much, that the town of Aufseß, located in the Franconia region of Bavaria, has the highest brewery density in the world. The town boasts four breweries with a total population of only 1,352 people, which is one brewery for every 338 people!
One Long German Sausage