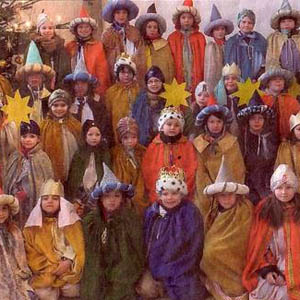 Many nations celebrate the full 12 days of Christmas, through to the feast day of Epiphany, Three Kings Day, on January 6th. In Germany the twelfth day of Christmas is celebrated as Three King's Day (Dreikönigstag) and commemorates the arrival of the Magi in Bethlehem to present their gifts to the infant Jesus. Three King's Day is an official holiday in a parts of Germany and Austria, and is also celebrated in Switzerland, France, Spain, and much of the Spanish speaking New World.
As is the case with many Christmas customs and celebrations, over time threads of doctrinal references have combined with bits of preexisting pagan customs, to produce what we now think of as traditional.
For example, although the kings were neither named nor enumerated in the text of Matthew, over the course of time the kings became named as Caspar, Melchior and Balthsar. Then, in the late 10th or early 11th century, the idea developed that one of the kings was Moorish, and he is commonly depicted in nativity scenes as black.
In about the 16th century, there developed a popular tradition of re-enacting the journey of the Three Wise Men – wherein a procession would carry a star, crowns, and gifts of frankincense, gold, and myrrh (or representations thereof) from door to door, singing songs and prayers at each house. Combining this Christian reenactment with pagan traditions of writing protective spells over doorways, these Sternsingers (star singers) marked the intials of the Three Kings, C+M+B, together with the year over the doorways of each house as a blessing. An alternate telling of the tradition suggests that the C+M+B stood for the Latin Christus Mansionem Benedicat (Christ bless this house). The Sternsinger tradition resurfaced about 50 years ago, with the star singers collecting charitable donations from house to house in payment for their blessings. Today it is still common to see groups of young star singers in southern Germany and Austria.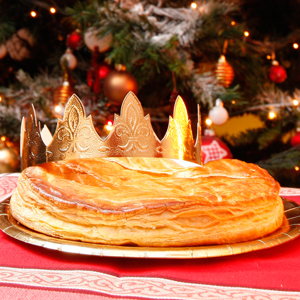 Interestingly wherever Three Kings Day is observed, there tends to be a special cake or bread to honor the day. Whether it's Rosco des Reyes in Spain, Le Galette de Rois in France, or King Cake in the southern US, these Three King's Day cakes tend to be yeasted sweet breads studded with dried fruit, topped with a crown, and quite possibly containing a special treat baked in. If you're lucky enough to encounter a small king or queen, or a bean, a baby Jesus, or a coin baked into your serving of Three King's cake, you may find yourself declared king or queen of the day and endowed with various (small) privileges.
Bake an authentic German version with our recipe for King Cake (Königskuchen), featuring currants, raisins and candied lemon peel.