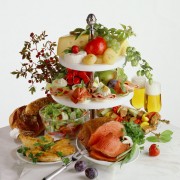 While the Mediterranean cuisine is widely known as the epitome of a healthy diet, the diet of Central Europe (which includes German, Austria, Switzerland, as well as parts of Eastern, Northern and Western Europe) is no less nutritious and good for body and soul. Here is our recommendation for unique specialty foods and recipes from the lands northeast of the Danube river.
---
More Sources on diet, nutrition and exercise
Let's face it:  most of the health problems in wealthy countries – and related health care costs – are based on a lifestyle of too many calories, not enough nutrients, and too little exercise. Our contention: eat what you like, try as many dishes from different cuisines as you can discover and follow some of the guidelines from official sources:
In 2015, the US Department of Agriculture released the latest version of the US Dietary Guidelines (see summary here).
IN-FORM: Germany's national initiative to promote healthy diets and physical activity.