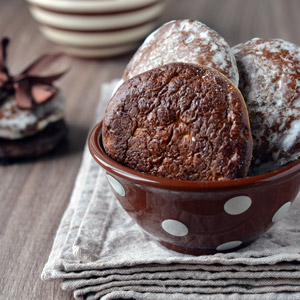 If the abbots in Franconian monasteries had been more discreet, the finest of German gingerbreads would not have been invented. The nuns and monks in monasteries around Nuernberg had used Eucharist wafers as a base for gingerbread dough, based on their own secret recipes. But the word – and recipes – spread quickly, and around the year 1345, a whole new industry of specialized gingerbread bakers (Lebküchner) developed in and around the city of Nuremberg, which became the world gingerbread capital and remains so today.
A protected origin designation
It was no coincidence that Nuremberg played this important role. The city was at the center of many important medieval trade routes, including an old spice route, so the necessary ingredients were available. The only gingerbread made in Nuremberg can today legitimately be labeled Nürnberger Lebkuchen within the EU, based on the prestigious qualification as "Protected Designation of Origin."
Elisenlebkuchen – the crown jewel
The finest of those gingerbreads are the flourless Elisenlebkuchen, the masterpiece of the trade since the early nineteenth century, with over 45% nut content. According to the lore, this name goes back to 1720, when the daughter of one of Nuernberg's master lebkuechner fell violently ill. Her desperate father baked an especially fine lebkuchen, made only with hazelnuts, honey and spices and named it after his daughter Elisabeth: the Elisen Lebkuchen. Today,  top-notch bakers use up to 10% of flour to create a more stable version which is placed on pre-cut edible paper, also called rice or oblaten paper, which readily available, especially around Christmas.
Elisenlebkuchen comes glazed with sugar or chocolate, or plain. This recipe glazes one-half of the rounds with sugar glaze and the other half with chocolate glaze. If you want only one kind of glaze, double the desired glaze ingredients.
Make Your Own Elisen Gingerbread
Purchase Original Nuremberg Elisenlebkuchen in Gift Tins