It is no secret that Germans love to drink beer. So, it is probably not surprising that there are now well over 7,000 varieties of beer in Germany brewed in 1,300 breweries. A good fifth of these are found in the southern region of Bavaria, whose capital, Munich, is home to the world-famous Oktoberfest beer festival. Throughout Germany beer is drunk at various times of day, generally with meals or alongside the most popular bar nibble, lightly salted pretzels.
So seriously was the science of brewing taken in the past that it gave rise to what was perhaps Europe's first food purity law, passed in 1516 by Duke William IV of Bavaria, and still in force today. The law states that only barley, malt, hops and water are allowed in the beer-making process — a revolutionary edict in the days when adulteration of foodstuffs was rife.
Following is an overview of German beer styles and varieties. Not all German beers are imported into the US, of course. To view our database of German beers currently available to the US market, visit the Beer page in our Product Gallery.
Pilsner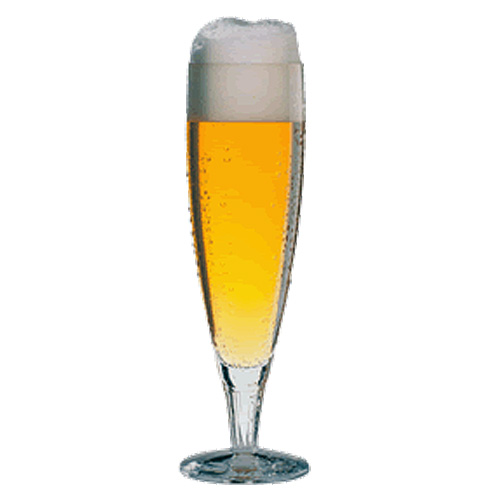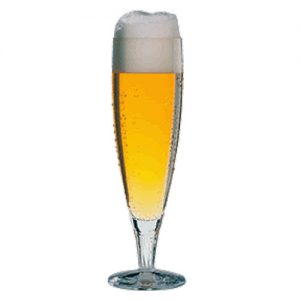 Considered an upscale, classy beer. Fresh pilsner from the tap takes about 7 minutes to pour into the iconic long neck pilsner glass, because of high pressure and carbonation. Pilsner is a relatively latecomer to the beer scene, created in about around 1842 by German brew master Josef Groll in the town of Pilsen, Bohemia, now in the Czech Republic. Pilsner has about 4.0 – 5.2% alcohol, is bottom-fermented, light colored, and has a distinctly bitter, 'hoppy' note and aroma. Leading brands include Krombacher, Warsteiner, Bitburger and Radeberger.
Helles or Dunkles Lager
Considered a working class type of beer, originating in Munich and Dortmund, and usually consumed in steins or large glasses, in beer halls or intimate pubs. This bottom-fermented beer has more pronounced malt notes, comes in light or dark color depending on the degree to which the malt was roasted, is less bitter, about 4.5% alcohol. Among the well-known brands are Löwenbräu, Hofbräu, and Dortmunder Aktienbrau (DAB).
Export Lager
Export lager is a bottom-fermented beer like Helles, but was originally made in the mid 19th century to ship overseas. It has a wort content of 12 – 14%, meaning stronger malt flavors, and a bit higher alcohol content of over 5%. Well known brands include Dortmund and Munich Export beers, but none has achieved more global recognition than Beck's Beer from Bremen, founded in 1876.
Kölsch and Altbier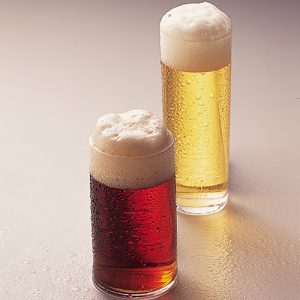 These are two distinct beers intimately connected to the cities on the Rhine river — Köln/Cologne (Kölsch) and Düsseldorf (Alt). These beers are top-fermented, with a balanced flavor, 4.8% alcohol and a really smooth finish. Served in cylindrical, narrow glasses, Kölsch and Alt are typically downed and replenished in minutes. Kölsch is made from light malt; Altbier is made from darker roasted malt and is consequently a bit more bitter. Both beers attained the coveted EU status of "Protected Designation of Origin"(PDO), so no brewery in the European Union can produce Kölsch or Alt outside the Cologne or Düsseldorf regions. Famous brands include Früh Kölsch and Diebels Alt.
Weißbier (Wheat Beer): Kristall, Hefe and Dark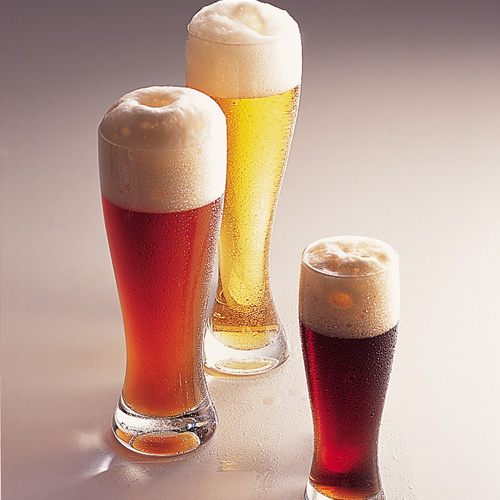 Primarily consumed in Southern Germany, this top-fermented beer has 5-5.8% alcohol, a refreshing, zesty flavor, and is served in tall slender glasses. Yes, you guessed it: the malt is part barley, part wheat. Pouring a Weißbier (wheat beer) from a bottle is a tricky business. First the glass is dipped in water. Then you have to tilt the glass as far as possible and slowly "pull" the suds from the bottom to the top of the glass. Otherwise, you only get masses of overflowing beer foam. Weissbier comes in Kristall (clear color, filtered), Hefe (cloudy, yellow color, some wheat and yeast residues), and Dunkel (roasted dark malt). Munich insiders would recommend Schneider Weisse or Augustiner Weisse as favorite brands.
Starkbier or Bockbier
This full-bodied beer is a Southern German favorite, traditionally brewed in March for consumption during Lent, with a minimum of 16% wort and about 7%+ alcohol content. The color ranges from golden to very dark. If you happen to be in Munich at the beginning of March, try to catch the opening of the Salvator-Anstich, the keg opening at the Nockherberg Starkbier festival). There you can enjoy Starkbier with up to 17% alcohol content.  Read more about Bockbier
Schwarzbier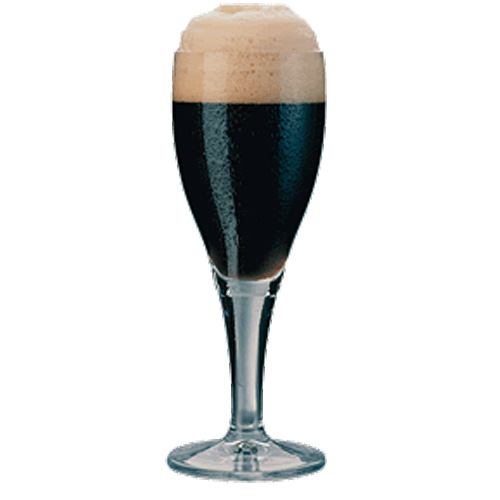 For most of the past seven millennia, beer was a dark colored beverage. It's less than 200 years since brewers have used lightly malted barley to create light colored beers like Helles, Kölsch or Pilsner. Schwarzbier is Germany´s Guinness, primarily consumed in Thuringia and Saxony. Bottom-fermented, full-bodied, lightly sweet and malty, it has about 11% wort and 4.8% alcohol content. Köstritzer Schwarzbier is a famous brand. This beer is best consumed at 8º Celsius in a chalice-type glass.
Berliner Weisse – Red or Green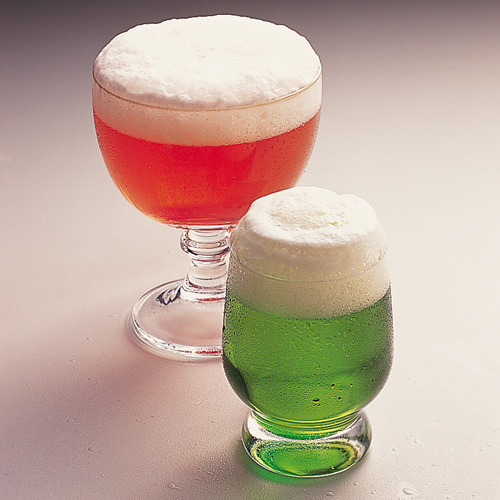 This is a refreshing, fruity, wheat beer originating about 300 years ago in Germany's capital city. Berliner Weisse became a hit in the summer beer gardens of 19th century Berlin. In contrast to Munich wheat beer, Berliner Weisse has about 7% wort and only 2.4% alcohol content and is fermented with a mix of brewers yeast and lactic acid bacteria. Thus, the beer gets a lightly tart, crisp flavor that is sweetened with raspberry (red) or woodruff (green) extract. A hot summer month favorite consumed in wide-bodied glasses.
Märzen or Oktoberfestbier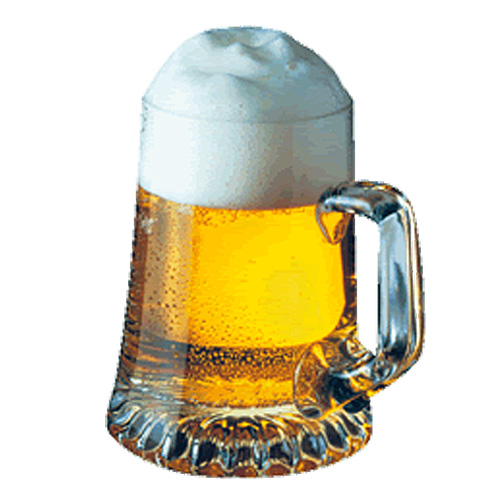 This  bottom-fermented beer is similar to Helles, but with a minimum of 13% wort and 4.8 – 5.6% alcohol content. Traditionally brewed in March, since prior to the mid 19th century breweries were required to shut down for the summer. This beer is also served during the famous Munich Oktoberfest. With soft malty notes, Märzen is pleasant to drink, and is typically consumed in steins in beer halls.
Gose
A specialty wheat beer originating in the city of Goslar near the Harz Mountains. Like Berliner Weisse, this top-fermented beer is fermented with yeast and lactic acid bacteria giving it a lightly sour note. Curiously, salt and coriander are added during the brewing process. Gose became very popular as a cloudy Weißbier in Leipzig, Halle and Dessau during the 19th century. Today, Gose is a rare specialty brew primarily served in Leipzig and Goslar.
Zwickl – Unfiltered (Naturtrübes) Beer
These unfiltered, non-pasteurized specialty beers are served across Germany under several names, depending on the city or region: look for Kellerbier, Zwickelbier, Zoigl, or Kräusebier. Akin to the Federweisse white wines, these beers have a golden-brown, cloudy color, showing off the unfiltered yeast and malt particles. The taste of these beers is surprisingly light and refreshing. Full of vitamins and minerals, the bottom-fermented naturtrübe beers are considered more nutritious than filtered lagers.The wort content is between 11-14% and alcohol content between 4.5 – 5.5%. Originally from the Northern Bavarian regions of Franconia and Palatine, today these beers are available throughout Germany.
Rauchbier (Smoked Beer)
If you can smoke meats to make them more flavorful, why not beers as well? That was the attitude of brewers in Bamberg in Northern Bavaria when they infused beechwood smoke during the malting of barley. Rauchbier is a amber to dark colored, bottom fermented beer with a wort and alcohol content similar to Schwarzbier or light Bockbier.
Radler or Alsterwasser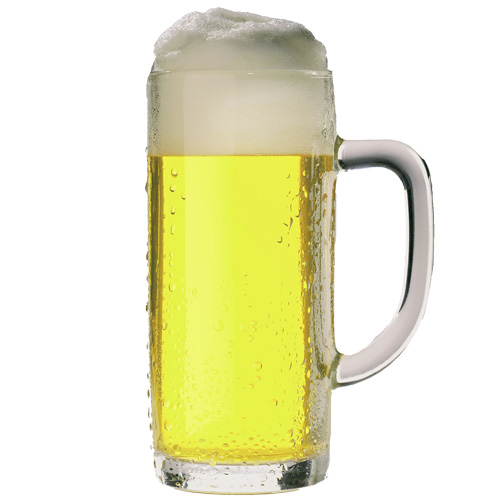 This is not a separate beer category, but simply Lager beer mixed with lemon soda. Known as Radler below the Danube and Alsterwasser north of the Danube, this refreshing mix contains less alcohol than Helles, is less bitter and is enjoyed at many pubs and beer gardens especially in Munich, Cologne and Hamburg.
Alcohol-free beer
One of the fastest growing beverages over the past years, alcohol-free beer is no longer the drink of choice only for designated drivers. With fewer calories than soft drinks or even apple juice, this beer can be as much part of a healthy diet as any reduced calorie drink. Special brewing techniques limit the alcohol by either preventing its creation during fermentation or removing it after fermentation. The wort content is between 7-12% and the maximum allowed alcohol content about 0.5%. The most popular brand is Veltins, but most breweries now offer their own non-alcoholic beer.
Malt beer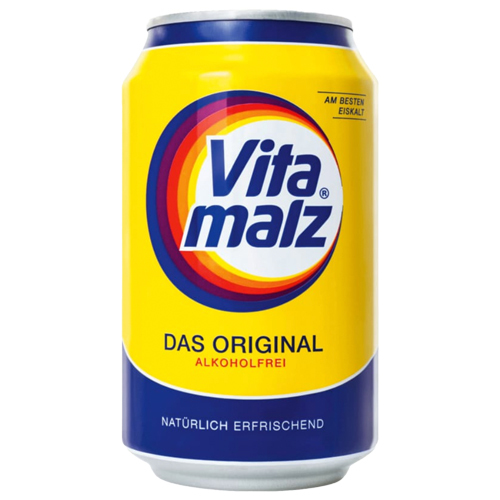 Malzbier, or Malztrunk as it called nowadays,  became very popular during the 1960s. It was frequently given to children as Kinderbier at parties while the grown-ups enjoyed the alcoholic version. Malzbier is brewed like regular beer, but with fewer hops, added brewing sugar and caramelized beet sugar extract. The best known brands are Vita Malz and Kara Malz. Today, many athletes and fitness fans add Malzbier to their diet, because it contains lots of fast burning glucose, minerals and protein.
RELATED CONTENT
A Brief History of German Beer, from the first millennium forward
Beer and Cheese: A Match Made in Heaven, a guide to pairing beer and cheese
8 Steps to Make a Good German Brew  how German beer is made
Forty Ways to Describe Your Beer, a guide to describing beer's many tastes
Is Beer Good for You?, short answer is yes
German Beers Available in North America, the brands you can actually purchase nearby!
Recipes with German Beer, sauces, soups, roasts and more