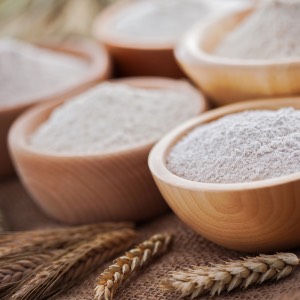 It's not uncommon for a US supermarket to stock only white, whole wheat and cake flour, but German flour has so many types that you may need this brief guide to know which to use for bread, cake, cookies, pancakes, etc. Some of these flours are available in the US and at our store.
Glattes Mehl (Smooth flour)
These flours are very finely ground, soft to the touch and with a "dusty" consistency. You'll find them used in our baking mixes for pancakes, waffles and biscuits.:
Griffiges und Doppelgriffiges Mehl – (medium fine ground flours)
These flours have a rougher consistency, i.e. you can "grab" (griffig in German) them with the hand. They include "hard" winter durum semolina wheat which is used in making pasta, spaetzle or dumplings, all side dishes which soak up gravies and sauces.
Universal Mehl – (a mix of fine and medium fine flours)
Those are the flours that you use for making breads, cakes and cookies. They're made from wheat, rye or spelt (an ancient grain related to wheat) or a mix of these grains and consist of very fine and coarsely ground flour. The most commonly available German flours are:
Wheat 405 – the classic household all-purpose flour with enough gluten for high bonding power, often used for cakes, white breads, and "Brötchen (German breakfast rolls)
Wheat 550 – flour with even higher binding power, ideal for baking with yeast and sourdough. The best bread making flour, mixes well with rye, spelt and buckwheat flours.
Rye 1150 – A robust flour that's dark in color, used in making sourdough breads and mixed wheat/rye breads (Mischbrot);
Specialty German flour (coarsely ground)
Wheat 812, 1050, 1600 – different grades of ground wheat
Wheat 1700 (Backschrot, or wheat groats) – coarsely ground, dark flour without germ
Whole Grain Wheat – Vollkorn, whole grain flour with wheat germ.
Rye 815, 997, 997, 1370 and 1740 – different grades of ground rye
Rye 1800 – Backschrot or rye groats – coarsely ground, dark flour without germ
Spelt 630, 812 und 1050 – different grades of ground spelt
You can find a large variety of ready-to-eat whole grain breads, mixes and baking products at our store.