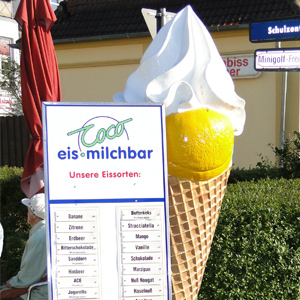 One of the pleasures on a sweltering day in Germany is a visit to the local Eisdiele (ice cream parlor) where you can find two great examples of culinary fusion: the Danish-German "Eis am Stiel" and the Italo-German gelato. Germany's ice cream infatuation actually started in the 1930s with the invention of "ice on a stick." For more than 80 years, young Germans grew up with two major brands of Eis am Stiel (ice cream on a stick) and Eis im Becher (ice cream in a tub) — Langnese and Schöller. These brands made what we now call 'hard-pack' ice cream. Then, in the 1950s and 60s, among the thousands of Italians heading north during the West German Wirtschaftswunder (economic miracle), some opened Gelaterias, to the delight of all. Soon these Italian Eisdielen became to German children what the neighborhood ice cream truck was to American youngsters.
Eis am Stiel
Langnese, a widely popular brand, was started by Karl Rolf Seyferth in Hamburg in the 1930 when he imported the innovative "ice cream on a stick" idea from Denmark. Seyfarth purchased the brand name from cookie baker Victor Langnese, initially for a line of honey, then for a line of ice novelties. A few years later, he sold the brand to the German Unilever subsidiary. Over the next 70 years, Unilever made Langnese the best selling German ice cream brand with classic hits like Cornetto Nuss, Nogger, Konfekt, Split and Capri. Today, Langnese's heart-shaped logo is recognized around the world and its creamy ice cream is enjoyed by people of all ages.
Schöller: Another young entrepreneur, the Bavarian Theo Schöller, jumped on the "ice cream on a stick" bandwagon in the 1930s. With his brother Karl, he established the JOPA ice cream factory, which was rebranded Schöller in the following decades. Among their hits are the famous vanilla-chocolate-strawberry ice cream sandwich. Schöller merged with Mövenpick in the 1970s and with Nestle in the early 2000s. Now, Schöller mostly produces fruity ice pops, which can be found in ice cream trucks and grocery stores across Germany.
An Italian-German Frozen Fusion
With Italian immigration in the 1950s and 1960s,  Italian gelato entered the picture, and Germany's ice cream landscape was forever changed. Today, Italian ice cream parlors are as easy to spot in Germany as Pizzerias – there's one in almost every neighborhood in the country, all together over 3,300 shops. Just look for iconic cone-shaped sign at storefronts or pastry shops.. German gelato (Speiseeis) differs from North American ice cream in texture, flavor and richness.
Traditionally, gelato contains up to 10% less fat than ice cream, because it is made with milk and cream, instead of just cream and is less likely to contain egg yolks. Gelato is churned at a lower speed, making it denser and less voluminous than ice cream. Gelato is served at about 35 degrees F, which is 5 degrees warmer than ice cream, ensuring a smooth, lick-able texture and no brain freeze.
A typical Gelateria offers 20-30 flavors of handmade gelato, with intense fruit or nut flavors that vanish quickly on the tongue. Among Germany's most popular gelato flavors are Stracciatella (vanilla ice cream with little chocolate shavings), pistachio, amarena (a dark sour cherry), hazelnut, and yogurt-flavored. However, vanilla, chocolate and strawberry flavors reign supreme on both sides of the Atlantic.
Famous and innovative ice cream parlors
In a stroke of genius, the Mannheim-based gelato maker Dario Fontanella pushed vanilla ice through a large dipper spoon with holes, topped the noodle-like mass with strawberries, strawberry sauce and coconut or almond slivers, and served it as the sweet semblance of spaghetti with meatballs Spaghetti Eis, an instant hit. And an iconic flavor that symbolizes the marriage of German and Italian sensibilities.
The average German ice cream parlor may offer 20 or 30 flavors from strawberry to stracciatella, but some recently opened gourmet ice cream stores offer unusual and unique flavor combinations. For example, the Bioeisladen in Leipzig,  serves goat milk, sheep milk or wild herb varieties; and at the Eiswerk in Dortmund,  you can buy lavender, rosemary, and salty peanut flavors. The first German ice cream making school in Werl, North Rhine Westphalia offers training courses for gourmet ice cream makers. Other Gourmet Ice cream cafés include: Snuten Lekker, Bremen with pumpkin seed, quark-sesame flavors, Eiscafe Luigi Amarone , Hannover, Eiscafe am Hafen, Konstanz, with rose, blood orange, and buttermilk, flavors, Gelateria Gino in Munich, with Mascarpone-Strawberry and Vanilla-Cassis flavors.
Average Consumption
On an annual basis, German ice cream consumption of about 6 kilo per person per year is rather moderate. Compare this with 12 kg in Estonia, 11 kg n Belgium and 8 kg in Italy. Americans also consume about between 6 and 8 kg per year. The German Italian scoop is usually smaller than its American counterpart and priced at about $1.20 to $1.80 per scoop.
Sources: Ernährungsdenkwerkstatt, Langnese, Schoeller, Die Welt, Statista
RELATED CONTENT:
Homemade German Ice Cream Recipes