Americans' favorite cooking season has begun, a time to show off the latest grilling toys and techniques, and put a chef's skills to the test. On both sides of the Atlantic it's time for brats, burgers and beer. In North America, it's also time for Father's Day, a celebration of the contributions of dads to family and society. Why not celebrate the season with a Grillabend (evening barbecue) with family and friends? In the following paragraphs we're going to give you an easy-to-follow guide on what is a traditional Grillabend and how to have one!
Appetizers
As with any great meal, a cookout needs a tasty appetizer or two! Thankfully, some of the more classic German appetizers are easy to prepare, or pre-made! Lorenz Crispy Peanut Puffs are crispy, toasted corn snacks with freshly ground peanuts. Similar in nature to the American favorite of potato chips, these can be eaten handily while waiting for the main course to cook. Another favorite appetizer is Hengstenberg cocktail onions! These onions are small, crisp and of the highest quality. They pair perfectly with wine, beer, cocktails and, of course, sausages!
Sausages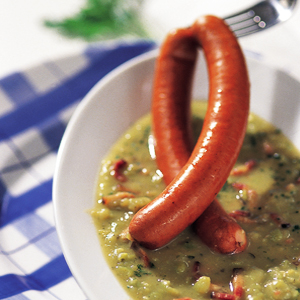 What German grillabend would be complete without sausages! Our recommendations for sausage are Meica Bockwurst and Frankfurter. These shelf-stable sausages are common in Germany, convenient to store and prepare, and are made from the best cuts of pork. Additionally, they have fewer preservatives than North American refrigerated sausages due to EU food laws. The secret to their flavor: these sausages are slowly cooked in brine in a vacuum-sealed glass which preserves their unique taste! For a bratwurst, try a Bavarian Bratwurst, which, as the name implies, is made in Bavaria! The recipes and methods they use have been passed down for years, and are not only secret, but protected by EU law!
Side Dishes
Sausages and appetizers alone, however, do not make a complete grillabend! Side dishes are a must-have, and we have them! Kartoffelland Kartoffelpuffer (potato pancakes) are a great first side dish. These grated potato pancakes go well with grilled steaks or sausages, and are very easy to make as they come in a quick-cook format. A salad is also a healthy and fresh side dish, although it requires a good dressing! We recommend either a vinegar and oil dressing or else a vinaigrette dressing. These dressing are pre-made, and both delicious and healthful!
Non-alcoholic beverages
You will, of course, need cold, refreshing drinks at a grillabend also! For an iced tea, try Favorit, which is a favorite brand in Germany and Switzerland. These teas are 100% natural, made with fresh Swiss spring water, and have a wonderful taste as well! If, however, you prefer water, why not try the preferred German variety of sparkling water? LIZ Artesian Natural Mineral Water is new to the U.S., but an old favorite of Europe. It is bottled at its source in Bad Vilbel, Germany, so the freshness is preserved for your enjoyment! Finally, if you want a more adult-friendly beverage, check out our guide to the perfect German summer beer!
Additional Grillabend Content:
Recipes for German Barbecue (BBQ)
Summer's Best Light Beer
Barbecue – A German and American Passion
Father's Day Gift Ideas