Wine production in Italy, France, Austria, and Germany all began in the Roman Empire. Over time, France and Italy became globally recognized leaders in the production of fine red wines, and German gained a reputation for white wines with a mellow, sweet "lieblich" character.
Today, global wine experts recognize not only Germany's award-winning dry whites, but also top rated pinot noirs, orange (amber) wines, and vegan, organic and alcohol-free products.
German wines are mostly produced by small, family-owned vintners producing primarily for the domestic German market. In fact, only 20% of German wines are exported, primarily to the US and UK. That said, it is astounding how many high-quality German wines can be found at restaurants and specialty retailers in major North American markets like New York, Chicago, San Francisco and Toronto. Or you can travel to Germany to taste the best crops and vintages!
Beyond Sweet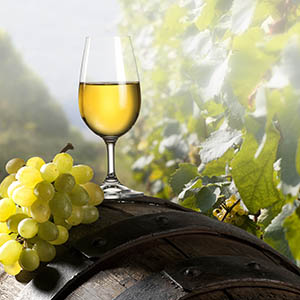 German white wines on average have always been a bit sweeter than white wines from other countries. This is due to differences in taste preferences, climate, and the degree of ripeness at harvest. For many centuries, sweet wines sold for high prices. In 2015, for example, a bottle of Schwarzhofberger Riesling Trockenbeerenauslese fetched about $15,000 at an international auction. It was the world's most expensive wine that year. Trockenbeerenauslese ("dry berry selection") is the pinnacle of Germany's predicate quality classification, which encompasses all types of grapes (white and red).
One of the best known sweet wines is Liebfraumilch, established in late 1770s. It translates to "milk of our good lady", a name derived from the Liebfrauenkirche in Worms, where the wine comes from.
The reputation of German sweet wines took a nosedive in the 1970s and 1980s, when German wine makers, especially those from the Rhine Hesse and Palatine regions, mass produced and exported cheap versions of sweet German wine, branded as Liebfraumilch, Blue Nun or Black Tower. Some rogue vintners even added sugar to the mash to boost profits.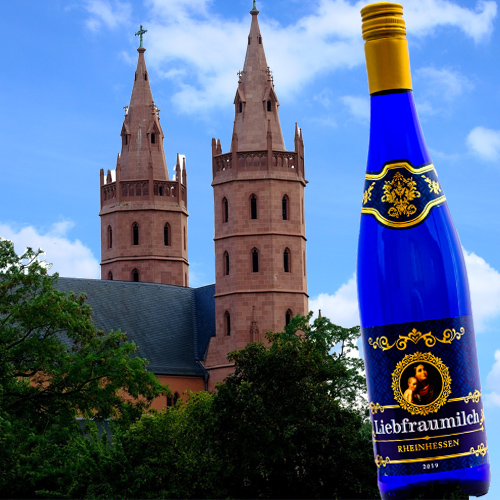 Then, in the early 2000s, a younger generation of winemakers and entrepreneurs turned their focus to quality, small batches, and sustainable viticulture. And Germany's reputation for fine wine was restored. Today, German white and red wines, in particular Riesling and Pinot Noir, can easily compete with the best wines from the US, Australia, South Africa or Chile.
Wine Grapes Cultivated in Germany
White Varieties
Riesling, ancient

Silvaner, ancient

Müller Thurgau, (Rivaner)
1882 in Geisenheim, (Riesling x Madeleine Royale)

Grauburgunder, (Pinot Gris, ancient
)
Weißburgunder, (Pinot Blanc, ancient)

Elbling, ancient)

Bacchus
Kerner, (Trollinger x Riesling)

Gutedel (Chasselas, Fendant, ancient)
Huxelrebe (Gutedel x Courtillier)

Gewürztraminer (red or yellow Traminer)

Chardonnay (ancient)

Sauvigon Blanc

Scheurebe (Riesling x Bukett)

Ortega (Mueller Thurgau x Siegerrebe)

Bacchus (Silvaner x Riesling)
Morio Muskat (Silvaner x Weissburgunder)

Faberrebe (Weissburgunder x Mueller Thurgau)
Red Varieties
Viognier (Rhone)
Spätburgunder (Pinot Noir)
Dornfelder, new)

Portugiese (Danube Valley)
Trollinger
Blauer
Lemberger
Schwarzriesling
Domina

Cabernet Sauvgnon
Regent
St. Laurent
Merlot
Syrah/Shiraz
Cabernet Franc
Malbec/Cot Acolon
More than Riesling
Riesling remains the number one grape variety, and is planted on more than 25% of the total wine-growing acreage. Riesling is a remarkable grape that is suited to Germany's cooler climate, and capable of mouth-watering freshness, a range of flavor notes, and remarkable clarity. It also ages very well, so that a bottle that is 20 years older or more can still be completely enjoyable.
But there are many more varieties planted in Germany. German vintners cultivate over 100 white grape varieties and dozens of red wine grapes. You can find wines made from "native" grapes like Silvaner, Bacchus or Elbling, as well as crosses like Müller Thurgau, Kerner , or Huxelrebe. 'Adopted' white grapes like Weissburgunder (Pinot Blanc), Spätburgunder (Pinot Gris) and Chardonnay are increasingly popular. Among reds, the leading varietals are Spätburgunder (Pinot Noir), Blauer Portugieser, Dornfelder and Trollinger. (See the sidebar for the major varietals planted in Germany.)
Occasionally, you may find German niche white or red varietals in North American restaurants, but to taste the best wines, you may have to travel to Germany.
Many shades of white and red
Many German white wines are not white. They stand out for their golden color, which is a function of their sweetness, age, and type of grape. Young, dry Riesling, in contrast, has a unique greenish-blue tinge. German rosé wines derive from from red grapes, which are produced with white wine fermentation methods. Rosé wines always list the types of grape; most often, they contain Spätburgunder (Pinot Noir) grapes.
German rosé wines are called Weissherbst ('white fall'), Rotling (a specialty grape from Baden) or Schillerwein ('scintillating wine'). Recently, you can also find orange wines in some restaurants or stores. These complex and full-bodied wines originated in the Caucasus (Georgia) and get their orange or amber color from red grape skin pigments that are kept in the mash during the fermentation process.
Wines Grow Where Rivers Flow
In Germany, most of the viticulture lies along the Rhine River, and its tributaries the rivers Ahr and Mosel, the rivers Main and Ahr, Nahe, Neckar, Saar, and Ruwer, all located in the West and Southwest.
On a smaller scale, but also producing quality wines, you can find vineyards in Eastern Germany alongside the Elbe River and its tributaries, the rivers Saale and Unstrut.
There are 13 officially designated German wine growing regions (Anbaugebiete). From north to south and west to east they are: Ahr, Mittelrhein, Mosel, Rheingau, Nahe, Rheinhessen, Pfalz, Hessische Bergstraße, Baden, Württemberg, Franken, Saale, Unstrut, and Sachsen.
Every year, millions of tourists take Rhine River cruises, flock to the hills of the Mosel, indulge in a Dornfelder red in Franconia near Würzburg or Rotling rose wines from the Black Forest near Freiburg.
How German Wine is Classified
Determining the quality of wines is probably the most complex, arcane, and subjective professional activity in any industry. It may not come as a surprise that Germany has one of the most complex and complicated quality assessment regimes among wine producing nations. Many factors are considered, including the type of grape, quality of harvest, vineyard location, soil chemistry, degree of sweetness, and vineyard craftsmanship.
Basic Classification of German Wine
In 2021, the German parliament passed a new law attempting to simplify the classification of German wine, with the following basic categories:
| | |
| --- | --- |
| Deutscher Wein | German wine. 100% of grapes must be German. |
| Landwein | At least 85% of grapes must come from a secific region, like Hesse or Baden-Wuerttemberg. |
| Qualitätswein | Quality wine from a specified region. |
| Prädikatswein | Predicate wine. 100% of grapes come from a specific wine growing area, vineyard or grape variety. |
Further Classifying Predicate Wines by Sweetness
At the core of this system is consideration of the weight of the Most (the mash or must). Most is defined as the grape liquid plus the dissolved sugar particles available for fermentation. The higher the specific weight of the sugar content, the more alcohol in the finished wine. The specific Most weight is the difference between 1000 grams of Most and 1000 grams of water). It is is measured in degrees Oechsle. For example, Most with a weight of 1076 grams is equivalent to 76° Oechsle.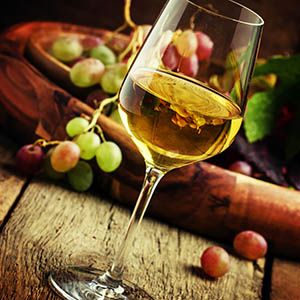 In this system the base level is called Kabinett ('cabinet'), a fine flavored, light wine made from ripe grapes, with relatively low alcohol by volume and a minimum of 76° Oechsle.
The next quality step is Spätlese ('late harvest'), a ripe, elegant wine from grapes that are harvested later in the season and are consequently sweeter measuring 76°-90° Oechsle).
Auslese ('selected harvest') are noble wines made exclusively from fully ripened grapes of 83°-100° Oechsle.
Beerenauslese ('berry or grape selection') are fruity sweet wines made from overripe grapes, harvested at the end of the season in November. These grapes must be affected by Edelfäule (noble rot), a beneficial fungus called botrytis that essentially pokes holes in the skin of grapes. Water evaporates, which leaves more sugar inside the grapes for the fermentation process. The minimum Most weight of Beerenauslese is 110°-120° Oechsle, which equates to about 300g of sugar per liter of Most.
Trockenbeerenauslese ('dry berry selection') is the pinnacle of Germany's predicate quality classification. It is also harvested late in the season. The berries must be covered by noble rot and are shriveled to the size of raisins. The minimum Most weight is about 150° Oechsle. The resulting wine is sweet, honey-like and it ages to perfection.
Finally, there is Eiswein ('Ice Wine'). This top-rated wine is made from grapes harvested in December, long after the season ends, frozen in ice and snow. These grapes cannot be affected by noble rot and need to have a minimum of 120° Oechsle.
Newer Classifications by Grape and Vineyard
Alongside the official, nationally regulated wine classification, the Association of Predicate Wine Producers (Verband deutscher Prädikatsweine VdP) has issued its own rules for the classification of predicate wines based on grape type and single origin. This classification is independent of dryness or sweetness and resembles the Bordeaux wine classification of 1855:
GG (Großes Gewächs, equivalent to Premier Cru) which must be made from a single grape varietal, matured to perfection, grown at a specific topography (wine hill) in certain types of soil, harvested by hand and produced by traditional methods. Per harvest, GG designated wines cannot exceed a yield of 50 hectoliters (42 barrels) per hectare (2.5 acres) of grape hill. 1G (Erstes Gewächs, or Grand Cru) designation mandates similar stipulations, but allows a maximum of 60 hectoliter wine yield per hectare of wine hill.
Ortswein (town wine) – the wine comes from a specific town, such as Bad Dürkheim.
Gutswein (vineyard wine) – the wine comes from selected, premium vineyards within a specific town or region. Both Orts- and Gutswein wines may contain any type of grapes (typical for a region), with a maximum yield of 75 hectoliter yield per hectare of wine hill.
Dryness and Sweetness
German wine laws clearly define the amount of remaining sugar and acidity that are two of wines' main flavor characters. Here are the parameters.
Dry Wines with a remaining sugar content of 9 grams/liter. The acidity cannot be more than 2 grams/liter less than the sugar content.
Semi dry Wines with a remaining sugar content between 9- 18grams/liter. You can taste a light, lingering sweetness, the Restsüße. Some wines may be classified as semi-dry, but taste dry due to their high acidity.
Semi-sweet, "lieblich" Wines with a remaining sugar content of 18-45 grams/liter. The sweetness is palatable.
Sweet Wines with a remaining sugar content of more than 45 grams/liter. Sugar and other particles of the original grape clearly dominate the flavor, such as in ice wine.
Federweiße, Sekt, & Weinbrand
A noteworthy byproduct of winemaking is the Federweiße ('feather-white'). This young wine is made by adding yeast to the freshly pressed grape juice, and the name describes its whitish, cloudy color. The added yeast speeds up the fermentation process. The remaining yeast gives the drink its feathery appearance. Federweisse is served from early September to late October, only in towns with nearby vineyards.
Sekt or sparkling wine' is, of course, another wine-related product. Although the widely distributed Sekt brands &emdash; like Rotkäppchen, Fürst Metternich, Söhnlein or Deinhard &emdash; cannot compare with top rated Champagne, some German Winzersekt (vineyard-specific sparking wine) are rated on par with the top ranked champagnes.
Riesling grapes also produce Germany's best-selling Weinbrand (brandy), Asbach Uralt. Hugo Asbach established the distillery in 1892 and even coined the term Weinbrand. His product is still considered the Germany's premium brandy.
Finally, an ever-growing number of niche wines cater to emerging dietary and production preferences. Vegan wines use plant-based gelatin during the clarification process of the must. Bio-dynamic wines are from grapes grown using Rudolf Steiner's process of organic, sustainable agriculture. Alkoholfreie (non-alcoholic) wines are created by reverse osmosis or vacuum-methods. This process is elaborate and expensive, and aims to preserve the flavor and aroma characteristics, while losing the alcohol content almost completely.
Food Pairing
You don't have to be a culinary connoisseur to pair specifically foods with specific types of wines. Many authentic dishes match well with German Riesling, Dornfelder, Silvaner and other grape varietals. Here are some suggestions to try with dry or sweet German wines, linked to corresponding authentic products available in North America and on our site: