It's time for brats, burgers and beer. From Memorial Day to Labor Day, on Father's Day and Independence Day, and most weekends in between, Grillmeisters the world over can put their latest grilling toys, tools and techniques to the test.  The Grillabend or Grillfest is as popular in Germany as the Barbecue is in North America. Why not mingle the best of both worlds?  Let us introduce to you the most typical and authentic ingredients, all available at our online store or other stores in North America.
Appetizers
A good cookout needs a few tasty snacks, appetizers or both! Classic German snacks include Erdnuss Flips (Peanut-Flavored Corn Puffs), Pretzel sticks with extra hot Duesseldorf mustard. Also try Nic Nacs (whole peanuts with crunchy crust), and paprika-flavored potato chips. Put out a tray with original German salami sticks, Bavarian Camembert or even Frankfurter "Handkaese." Decorate with Swabian cocktail onions and whiskey- or gin-flavored cornichons. For color, add slices of pickled red beets. Round up the appetizer plate with pumpernickel canapes, covered with Oldenburger pork liver pate, or German pork pate with goose, or Teawurst. All of these specialty foods can be prepared quickly and eaten handily while waiting for the main course to cook. They pair perfectly with wine, beer, schorle or cocktails.
Sausages
What grillabend would be complete without sausages! It does not only have to be Bratwurst. Try a variety of different kind: Beer Bratwurst , Knackwurst, Debrecziner Hungarian Bratwurst, Bauernwurst, Currywurst. You can also grill slices of the famous "Leberkaese" (finely-ground pork-veal loaf), a Bavarian delicacy that goes well with Bavarian sweet mustard and Bavarian pretzels.  Of course, original (and we mean "made in Germany") German frankfurter, wiener or bockwurst should not be amiss.  These shelf-stable, pre-cooked sausages are common in Germany, convenient to store and prepare, and are made from the best cuts of pork. They have fewer preservatives than North American refrigerated sausages due to EU food laws.
Condiments
American-made steaks, chicken and hamburgers marry well with authentic German seasonings. For example, Bavarian herb butter or herb butter seasoning, Remoulade, and the iconic German mild curry ketchup, hot curry ketchup or schaschlik sauce. Then, or course, are the hot Duesseldorf mustard, Bavarian sweet mustard, or medium Swabian mustard. We also recommend German spice mix for Hühnchen (Chicken), Kotelett and Schnitzel Seasoning Mix (Chops and Schnitzel),  or Gyros Seasoning Mix. And then are the seven different types of pickles to garnish the meats
Side Dishes
Salads add a healthy oomph to any Grillfest. Liven up your greens and fresh veggies with authentic German vinegars, such as the famous  "Altmeister"(red wine),  "Salata" (white wine), or 13-herb. Or use dry salad dressing mixes, custom-flavored for specific types, such as Cucumber-, Potato-, Pasta-, Feld (Lambs Lettuce)-, Garden Herb-, Kitchen Herb-, Italian Herb-, French-style Garlic Herb, or Hungarian-style salads. And there is the ready-made pickled Polish celery which accents lettuce quite well.
Pasta and Potatoes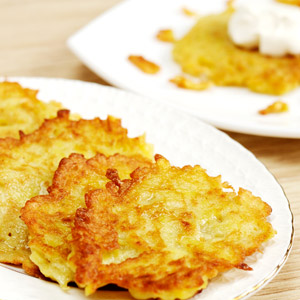 Any grilled steak, hamburger, chicken or sausage needs a good side kick. Complement your meat and veggies with a potato or pasta side that "speaks" with a German accent. For handmade Pommes Frites (French fries) use the Fritten Seasoning, or Bratkartoffel Seasoning for fried potatoes.  For convenience cooks, there are also ready-made sliced potatoes available. Serve any or all of these potato dumplings – Bavarian-, Thuringia-, Saxon–, Bohemian-, or Austrian-style. Always popular are the Rhineland Kartoffelpuffer (potato pancakes) or Swiss Roesti. If you prefer pasta, use Bavarian spätzle, Black Forest spätzle, or any of the 5 other spaetzle noodle types),  Swabian broad egg noodles or colored egg noodles.
Non-alcoholic beverages
Wash down the grilled delicacies with authentic soft drinks made in Germany and Austria. Any one of these will also make great cocktails. There are the storied mineral water brands Rosbacher and Gerolsteiner. These have been exported to the US as early as the 1890s. Some of the cult drinks, like Bionade (organic soda), Club Mate (yerba mate tea soft drink), or the Austrian Almdudler (Alpine herb soda) are "cool" in the proverbial sense. And some unique Austrian berry syrups, (like white elderflower, black elderberry, black currant, waldmeister and more).
Beer and Wine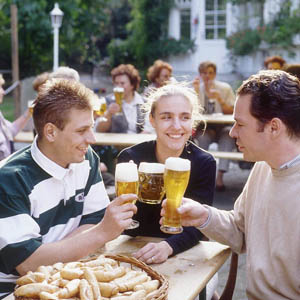 Kölsch, Helles, Alt, Pilsner, Export …not much needs to be said about Germany's famed beers, so here are just a few fun facts. Nearly 5,000 different types of beer are produced in approximately 1,200 German breweries. Distinct brewing methods and the ratio of the different ingredients results in an impressive palette of beers. Many breweries have successfully found their way into the North American market, as do premium German wines. The sweet varieties, like Liebfraumilch, are still available, but over the past 50 years, quality has improved dramatically. Todays crisp Rieslings or mild Dornfelder can easily compete with the best Californian, Australian or South African wines. Check your local liquor store or specialty groceries for available German wines.
Spirits
You may know Jägermeister (herbal liquor), Schladerer (Black Forest fruit brandy) and Asbach (Rhineland Riesling brandy). But did you know that German gin and whisky makers have won gold medals in world distiller championships? Many German spirits are only produced in small quantities and not exported, but some may be available in specialty liquor stores.