Since the early 1990s, Halloween has become increasingly stylish in Germany. Essentially, it's "Karneval" in October: Another opportunity for young and old to dress in funny costumes. The celebration of all things ghoulish, creepy and spooky is especially poignant at the original Frankenstein Castle close to Frankfurt. Although not as prevalent as in the United States, you see more and more children (with parental guides) go from door to door and yell, "Süßes, oder es gibt was Saures!" (well, basically "trick or treat"). It's very similar to the American tradition, but with a süßen (sweet) German twist!

Looking to buy German Halloween novelties right now? Visit our sister site TheTasteOfGermany for a selection of gummies, mis-fortune cookies and chocolates!
Karneval in October
Prior to the 1990s, Halloween was not commonly observed in Germany. This fright fest with Celtic roots was, unfortunately, a uniquely American party. However, in 1991, Karneval festivities in February were abruptly canceled due to the start of the first Gulf War. The producers of costumes, candies and toys had to think of other opportunities to sell their wares to Germans. What better way to do this than to celebrate Halloween in October? After all, it was already very popular in the United States! Halloween in October was warmly welcomed, and the ghoulish celebration is now (almost) as popular as Oktoberfest! This is especially true when it comes to the party club circuits.
Halloween Party Menu
When too old to trick-or-treat, teenagers in Germany love to throw Halloween parties. These parties are very similar to those hosted by teenagers in the U.S. Uniquely German Halloween party beverages include hot apple punch and cold "blood punch — made from grape juice, rum and lemon juice served in a carved out pumpkin. How about the "Dragonblood Drink," made from grenadine, lemon juice, cherry juice and orange/pineapple juice? The drinking age for teenagers is much lower in Germany, so the inclusion of alcohol at parties with youngsters even as old as 18 years is acceptable. To color food, use red beet juice or black elderberry syrup. Like many other countries around the world, Germans have their own special Halloween snacks and dishes! For example, spicy deviled eggs or pumpkin soup are very popular even among German youth.
It's Alive!
Arguably, the coolest partei (party) takes place at Frankenstein's castle (Burg Frankenstein) near Darmstadt! This 12th century walled fortress was built out of stone to defend the pristine wine regions. It is located in the Rhineland Palatinate, and there were many invading armies against which it needed to defend. Allegedly, Mary Shelley visited this castle and was inspired in part by it! Combining the influence of this castle with a 17th century alchemist who practiced his art on human corpses, her famous novel about the Frankenstein monster came alive. Although this story is disputed, the castle serves as a venue for over 20,000 dressed up ghosts and goblins! The Burg restaurant also serves a special Gruseldinner on October 31.
RELATED CONTENT:
Halloween Sausage Snake Recipe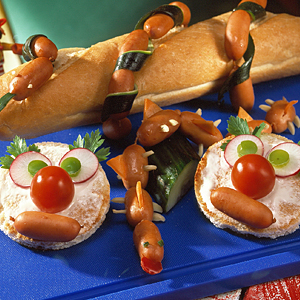 Authentic German Sausages to make a Sausage Snake
A map of Halloween Parties in Germany (for the adventurous traveller)
German Halloween Song: Der Ur-Ur Enkel von Frankenstein (the great-great grandchild of Frankenstein) by Frank Zander
Halloween and Candy Corn