The state of Hessen (Hesse in English) lies in western-central Germany. The major cities of this state are Frankfurt am Main, Wiesbaden, Offenbach, Hanau, Giessen, Fulda and Kassel. Culinary specialties vary according to the region, with the north and south showing the influences of neighboring regional cuisines.
An International Region
While Frankfurt is Germany's 5th largest and most international city, and is also the financial and transportation center of the country, it is not the capital of Hesse. Wiesbaden, in fact, lays claim to this title instead. Frankfurt am Main is generally referred to as simply Frankfurt, although am Main, meaning "on the Main river," differentiates it from Frankfurt an der Oder, the city of Frankfurt that lies in the former East Germany on the Oder river. While the actual city of Frankfurt am Main has only about 655,000 inhabitants, the Frankfurt urban area is home to almost 1.5 million inhabitants and the Frankfurt Rhine Main area has a population of 5 million.
Specialties of Frankfurt and Hesse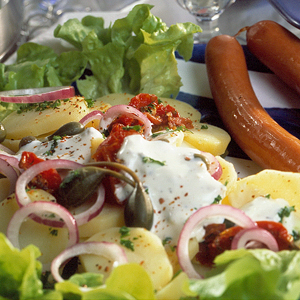 Culinary specialties in Hessen vary according to the region. Influences from the neighboring state of Thuringia are found in Northern Hessen, whereas in Southern Hessen, culinary specialties are inspired by the cuisine of the Rheinhessen and Franconia areas. Whatever the area of influence, potatoes and bread figure heavily in Hessische Küche, or Hessian cooking!
The Original Frankfurter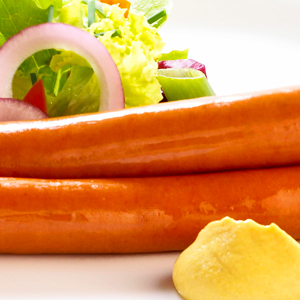 The original Frankfurter Würstchen, or Frankfurt sausage, is a scalded, smoked sausage (Brühwurst) made with pork contained in a natural sheepskin casing. To cook it, it is scaled in hot water for about 8 minutes, hence the name Brühwurst, and must never be boiled. Typical accompaniments are mustard, bread and horseradish. The Frankfurter Würstchen has been around since the 13th Century and since 1860, its name has been geographically protected so that only sausages made in the Frankfurt area may be called Frankfurter Würstchen! While the Frankfurter Würstchen is made from 100% pork, the Frankfurter Rindswurst is made from 100% beef. It was invented in 1894 by a butcher in Frankfurt and became very popular among the Jewish population of the time since it did not contain pork. The butcher's shop where it was invented is still in business in the city to this day! Frankfurter Rindswurst is also a Brühwurst and is usually cooked in a Wasserbad (slow cooker) but can also be grilled or fried. It's also used as a base for the popular Currywurst, which is a sliced sausage covered in a curry-flavored ketchup.
Grüne with Envy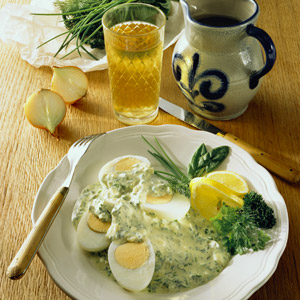 A green sauce is a cold sauce made with herbs that traditionally accompanies fish and meat dishes, boiled eggs and potatoes. The Frankfurt Grüne Sauce and the Kassel Grüne Sauce are very regional specialties in Hessen. The Frankfurter version is made from seven herbs, namely borage, chervil, cress, parsley, burnet, sorrel and chives. Sometimes dill, spinach or lovage are also added. The herbs are minced and blended with hard-boiled egg yolk and sour cream, then passed through a sieve and beaten together with oil, vinegar, salt and pepper creating a mayonnaise-type consistency. Frankfurter Grüne Sauce is traditionally served with boiled potatoes or Pellkartoffel, which are potatoes boiled in their skins. It is also typically eaten as a topping for hard-boiled eggs. To make a proper Frankfurter Grüne Sauce, worthy of its name, you really have to use herbs that are grown in certain areas of Frankfurt. These herbs are packed into paper bags and sold in the local markets. A genuine sauce would use only the seven above-mentioned herbs, without the addition of dill. Since herbs are not grown all-year round, there is indeed a season for Frankfurter Grüne Sauce, which, of course, begins on Gründonnerstag (green Thursday), which is the Thursday before Easter (Maundy Thursday), when one traditionally eats green food. The Kassel Grüne Sauce differentiates itself from the famous Frankfurter version in that it uses different herbs, namely borage, parsley, burnet, sorrel, chives, dill and lemon balm rather than chervil, cress and lovage. It is eaten with boiled, salted potatoes, Pellkartoffeln or baked potatoes.
A Different Kind of Wreath
Frankfurter Kranz
or a Frankfurter Wreath is a wreath-shaped cake from Frankfurt. It consists of a butter cake that is baked into a wreath-shaped form, then split into 2 – 4 layers and sandwiched together with butter cream filling and red preserves or jam. It's decorated with more butter cream and sprinkled with Krokant, which is a mixture of nuts that have been browned in butter with a little sugar! A perfect holiday treat to satisfy one's hunger and sweet tooth!
An Orchestra of Cuisine
Handkäse mit Musik is particularly popular in Apfelweinlokalen (Apple Wine Pubs) and refers to a Sauermilchkäse cheese, which is made from sour milk quark cheese. The word Handkäse is derived from the fact that the cheese is made and formed by hand and thus the cheeses are small in size. The dish Handkäs mit Musik is traditionally prepared by marinating the ripe cheese in oil, vinegar, caraway seeds, pepper, salt and onions. So where does the music part of this dish come into play The Musik is supposed to be the intestinal noise generated by the consumption of the onions! The dish is traditionally served with bread and a glass of Frankfurt Apple Wine (Apfelwein)! Similar to Handkäse, Frankfurter Rippchen are a must on any menu in Frankfurt's numerous Apfelweinlokale or apple wine pubs. The dish consists of smoked pork chops that are braised in sauerkraut or meat broth and served with mashed potatoes and sauerkraut. Unlike the Kasseler Rippchen, the meat is not smoked and thus the flavor is milder
A Rich Treat
Bethmännchen owe their name to the wealthy banker from Frankfurt named Simon Moritz von Bethmann, whose chef, a Parisian confectioner, created these marzipan confections while working as a chef in his home. They are thought to be a variation of the confection Frankfurter Brenten, which date back to the Middle Ages. Bethmännchen are cookies made from marzipan, almonds, confectioner's sugar and rose water. They are decorated with three almond halves, brushed with egg yolk and baked in the oven. Legend has it that the original Bethmännchen had 4 almond halves, one to represent each of the banker's four sons. The number was apparently reduced to three when one of the sons died, however this story is not proven. Bethmännchen are most commonly baked and eaten during the Christmas season. Another regional dessert is a Haddekuche, which is a diamond shaped gingerbread! It's is derived from Hartekuchen, meaning hard cake, since it dries very quickly and becomes hard. The diamond-shaped pattern on the surface of the Haddekuche is similar to the pattern on the side of a typical Apfelwein glass, Frankfurt's traditional beverage. They are sold in Apfelweinstuben (pubs selling apple wine) in the Frankfurt area by so-called traveling Bretzelbubb or pretzel sellers.
The State Drink of Hesse
Apfelwein, considered to be Hesse's state drink, is an alcoholic beverage made from apples which resembles apple cider. While it is mainly produced and consumed in the federal state of Hesse, and in particular the Frankfurt region, it's also popular in the Moselfranken, Lower Saar area and the regions bordering Luxemburg. The Sachsenhausen area of Frankfurt is probably the most famous area for consuming Apfelwein, and it's known as the Apfelweinviertel or "Apple Wine Quarter" due to the numerous Apfelweinlokale (apple wine pubs)! As it's rather cloudy, Apfelwein is traditionally poured into a glass that has a diamond-shaped raised pattern on the surface so that it refracts the light. This glass is known as a "Geripptes." A large stone-glazed gray jog with a blue pattern, known as a Bembel is used to pour the wine into the glasses. While traditionalist would frown on drinking anything but pure Apfelwein, many Germans like to mix it with various other beverages. For example, if you mix Apfelwein with mineral water (Mineralwasser) you get a Sauergespritzte or an Apfelweinschorle. To make a Süßgespritzte, you mix the Apfelwein with soda! While less common, Apfelwein can also be mixed with beer to produce a so-called Bembelschlabber and with Cola to produce what is known as "Panzersprit," "Covie" (Cola and Viez), "KE" (Kola-Eppler) or "Korea."