If you want to take a break from beef, pork or chicken at least once in a while, but don't want to miss a crunchy, savory bite, then look to kohlrabi as a tasty alternative. This cabbage-based center-of-plate food is not just good for your health, but also good for animal welfare and the environment.
A cultivar of wild cabbage-like cauliflower, broccoli, kale, collard greens or Brussels sprouts – it also has some of the characteristics of a turnip. It packs a powerful punch of juiciness, firm bite, and pleasant, nutty taste. You can eat kohlrabi raw, both the stem and leaves, or cooked, steamed, fried, or baked. The great advantage: kohlrabi stays firm to the bite.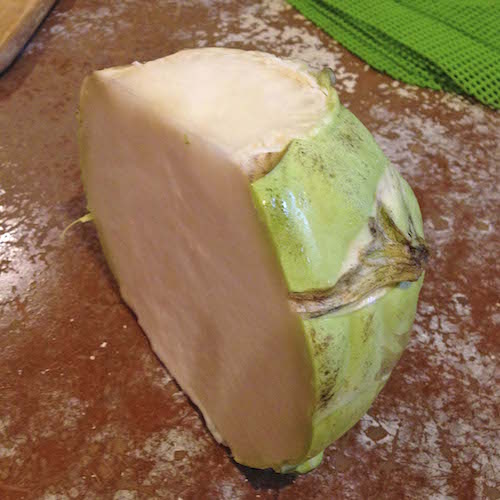 Kohlrabi is a vegetable with distinctly Germanic origins, although it is grown and eaten in many parts of the world. The name derives from Kohl (cabbage) and Rübe (Beet, Turnip), or Rabi as it is called in Switzerland. A staple in Northern European German-speaking countries and in Eastern Europe, kohlrabi is also a staple of the Kashmir region in India, where it's called Knolkhal or Nookhal.
Kohlrabi stars in main dishes, soups, salads or as a side dish to meat and fish. Traditionally, in Germany, kohlrabi slices are cooked in a cream sauce with herbs, primarily parsley. It takes just 15 – 20 minutes to fully cook kohlrabi slices. But try kohlrabi fries, too, they're awfully tasty!
Although it's been grown in the US since 1800, you still may not find it at every supermarket. In North America you can find kohlrabi most often in the Northeast and Midwest. If it's not available at your supermarket, look for kohlrabi at farmer's markets, CSA boxes, and specialty food stores — and virtually everywhere in German supermarkets.
Most varieties are at their tastiest when about the size of a peach or apple; there are a few varieties that have been bred to remain juicy and tender at larger sizes.
RELATED CONTENT:
Recipe for Kohlrabi Schnitzel
Recipe for Creamed Kohlrabi
Recipe for Kohlrabi Potato Gratin
Recipe for Kohlrabi Soup
Recipe for Kohlrabi Fries