Lanterns glowing, children are out for a special November treat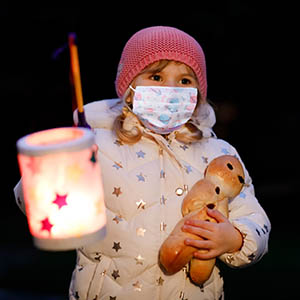 After Halloween ends, German children have a second opportunity for collecting sweets and treats. On November 11 each year, thousands of young and old celebrate St. Martin's Day, especially in the predominantly catholic areas of the Rhineland and Southern Germany. German children, some with their parents, carry candle-lit lanterns and sing 'lantern songs' in the processional celebration of the saint.
The annual St. Martin's Day procession of lantern-carrying children is quite a sight. The children are usually young, below the age of ten, and accompanied by grownups. The largest procession takes place in Kempen, northwest of Cologne, with 4,000 people marching behind a Roman soldier on a white horse. These children's processions begin as darkness falls, and often end with a bonfire. Then, the children go from door to door singing, and, much like trick or treating in the USA, the children are given candy, money, and other treats. However, to get these rewards they must first sing! All in all, it makes for a beautiful evening — the children have fun, and the elders enjoy the beauty of the lanterns (homemade or purchased) and the songs.
Martin of Tours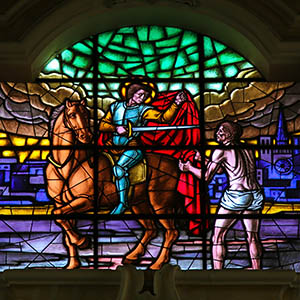 Martin of Tours was born in the 4th Century Current Era and started out as a Roman soldier. Later in his life, he found Christianity and became a monk. Because of his exemplary way of life he was appointed Bishop of Tours (against his will). Many legends surround his life, which is possibly why children love his saint day so much. The most famous tale tells how he cut his cloak in half in order to share it with a beggar who was dying of the cold.
Man With a Pipe – A Sweet Treat of Weckmänner
Another special treat awaits the children at home: the Weckmann! This is a sweet bread roll shaped like a man, similar to a gingerbread man. Typically the Weckmann has raisin eyes and a white clay pipe in his mouth, and is sold at any bakery or, even better, made at home by mom. Children enjoy the shape of the the treat as well as the taste, and may enjoy decorating their own Weckman as well. Try out our recipe for homemade Weckmänner.
Duck, Duck… Goose!
Legend has it that, while in hiding, St. Martin was betrayed by geese squawking. He had hidden in a stall in order to avoid being appointed Bishop of Tours, and in revenge for the betrayal St. Martin ate a goose. However, there is another very good reason that the first goose of the season is eaten on St. Martin's Day. Geese are simply ready for harvesting at this time of the year. Moreover, their eggs and fat were traditionally used in baking. Additionally, the feathers were used for pillows and featherbeds and to create a sort of Christmas tree!
Roast goose frequently appears on menus all over Germany, and with good reason. Its dark, delicious and tender meat cooks to a light crispness on the outside. Meanwhile, the rich and crispy skin means that the flesh bastes itself. A tasty liver pate and rye breadcrumb stuffing make wonderful sides. For a special presentation, try adding halved fresh peaches baked and glazed with sugar and red currant onto the goose, as shown in these delicious roast goose recipes.
St. Martin's Day, a Holiday of Holidays
November 11 is also the official start of Karneval, Fasching and Fastnacht. These holidays all begin eleven minutes past eleven o'clock on the eleventh day of the eleventh month! It is at this time that carnival clubs and neighborhood groups start their preparations for the carnival season. This fun season then culminates with huge Fasching (Mardi Gras) parades in February.
See some of the elaborate lanterns on parade: Kempen lantern procession
For those with some German language skills, click here for instructions to Make your own lantern.
Here are lantern-making tips in English
RELATED CONTENT:
Recipe for Roast Goose Breast with Dumplings, Red Cabbage and Chestnuts
Recipe for Roast Goose with Liver Pate Stuffing and Red Currant Glazed Stuffing