The truly original Munich beer garden is an ideal place to relax, something much needed here in the United States.
You can enjoy a Brotzeit (lit.: time to eat bread) with crusty rye bread, pretzels, cold cuts, sausages, sauerkraut, radishes and pickles that you bring from home. You buy a stein of fresh suds from the tab. You meet friends or make new ones at the communal wooden tables under shady chestnuts.
Wait a minute, you may say. You can find beer gardens are all over the United States. And the number is growing, especially in the larger urban centers.
Explore a selection of outdoor beer gardens in every US state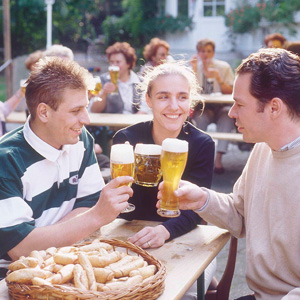 Yes, but the original Munich beer garden something different. It's is located in the center of a public park.  Or next to a lake. You don't have to dine in a tightly enclosed and controlled establishment. You can bring your dogs or mountain bike to the table. You don't have to spend money on food, just the beer. Waiters don't rush you to make room for the next paying guests. You can just sit there for hours in fresh air, under shady trees, and relax.
A place of Gemütlichkeit:
The original Munich beer garden is a place of community, camaraderie, and comfort. A place where Gemütlichkeit (lit: a stress-free mood) rules. A location that is lustvoll, massvoll und sinnvoll (engl.: full of excitement, moderation, and contemplation) at the same time.
Wirtsgarten vs. Biergarten – a short beer garden history
In 1539, during the height of the Renaissance, Arch Duke Albert V of Bavaria ordered that breweries could only make beer between September and April, the cool and cold seasons. The heat of summer and open fires to boil the mesh of water, malt, hops and yeast often caused half-timbered houses to burst into flames.
Fast forward to the mid 19th century. To meet rising demand for lager beer, fermented at cooler temperatures, Munich brewers stored barrels in cellars along the Isar River, filled the riverbanks with gravel, and planted leafy chestnut trees to provide shade for the breweries. Soon, they set up benches and tables under the trees to offer customers steins of fresh beer from the cellar.
Bigger breweries could afford to build a kitchen and offer prepared meals as well. Smaller breweries without the means to provide food service complained about unfair competition. As a compromise, King Maximilian I of Bavaria ruled that patrons could bring their own food to a beer garden.
From that time on, beer garden proprietors offered food service only at tables covered by a tablecloth. The term "Wirtsgarten" (lit.: brew pub proprietor's garden) became common for these types of establishments. In contrast, the term "Biergarten" was used for establishments with uncovered communal tables and benches where patrons bought beer and bring their own Brotzeit.
More to explore: Munich Bier- und Wirtsgarten
US beer gardens, wars and prohibition
Yes, you'll find many Wirtsgarten in the United States. But the original Munich beer garden would never get a permit today.
That wasn't the case in the mid 19th century. As German immigrants fled the failing German revolution and headed for the American Dream, breweries and beer gardens enjoyed immense popularity here.
Beer magnates, like Adolphus Busch, Eberhard Anheuser, Frederick Pabst, Joseph Schlitz and Frederick Miller opened numerous beer gardens and resorts in Milwaukee, New York, St. Louis and Chicago. That's where the German-American brewing traditions began. Hundreds of other summer beer gardens opened up throughout the century in towns with German-American communities all over the United States.
Alas, in contrast to Europe, the consumption of alcohol became a real problem in the New World. Many poor immigrants who could not or did not achieve the American dream drowned their sorrows in beer and bourbon.
Fueled partly by religious fervor, partly by necessity, the Temperance movement lobbied hard to prohibit the consumption of alcohol all together. It took the movement nearly 50 years, but their proponents eventually achieved that goal. Right after World War I, in 1920, when Germans had lost all goodwill among the American public anyway, beer and beer gardens, along with all other forms of alcohol, were no longer legal.
More to Explore: Last Call: The Rise and Fall of Prohibition by Daniel Okrent
In 1933, with the election of Franklin D. Roosevelt, the US Congress repealed Prohibition laws. Yet, even 85 years later, some US states, counties or municipalities still maintain strict alcohol laws. And it's not the Food & Drug Administration that regulates alcoholic beverages, but oddly the US Department of Treasury (Alcohol and Tobacco Tax and Trade Bureau) (because alcohol is a wonderful source of tax revenue).
Federal and state liquor laws have relaxed over the past decade. You can ship wine and maybe soon beer across state lines and, yes, beer gardens are the new hot food service establishments popping up all over the US and Canada. But what we need is this place in the center of town or alongside forests, parks and lakes, where we can simply sit and relax, enjoy a few hours of Gemütlichkeit, bring our own home-cooked foods. Maybe in the next generation.
More to explore: Recipes from a Munich beer garden