With the approach of Passover, we collected a few recipes that highlight the culinary roots of this paramount Jewish holiday. From the prohibition of "Gesäuertes" (leavened bread) to the role of eggs and lamb chops during Seder, Jewish culinary culture is thriving Berlin and all over Germany.
Passover Recipe Suggestions:
Passover Sweet and Sour Beef Brisket
Passover  Gluten Free Almond Macaroons
The prohibition of "Gesäuertes"

The Pessach Fest (Passover), also called the "feast of unleavened bread," is one of the most important Jewish holidays. It stretches over the course of eight days and commemorates the Israelites' exodus from Egypt about 3,300 years ago. According to the Torah, Israelites left Egypt in such hurry that they could not wait for bread to rise. Hence, the dietary law at the core of this holiday: the prohibition of consuming or possessing any leavened or fermented food (in German, "Gesäuertes," in Hebrew, "chametz"). This includes all grain products that have undergone a fermentation process at any stage, even before milling, by the use of enzymes or exposure to moisture or heat.
Symbolic culinary rituals
Distinctive foods and certain rituals or arrangements mark the first two evenings of Pessach. In Hebrew, the word for order or arrangement is Seder. Hence, this explains the name for the first meal. The whole family gathers and, frequently, guests are invited as well, among them sometimes a poor neighbor or homeless person, a symbol of the Jewish traditions of charitable giving. Charoset bread, a very traditional dish is which is delicious and a mainstay for German Jews, is often eaten at this first meal.
Meal arrangements with highly symbolic meaning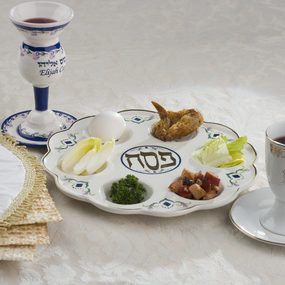 Three matzoh loaves, each wrapped in a napkin or stuck into a bag with three pockets. "Fruits of the earth," such as parsley, celery and radishes, along with a dish of salty water. Bitterkraut, (bitter herbs) which includes horseradish and lettuce. A fruity, brown-colored puree made of grated apples, almonds, cinnamon and kosher wine. Some roasted meat on a bone and a boiled egg. The roasted meat on a bone serves as memory of the Passover sacrifice. The egg symbolizes the victims of the pilgrimage to the Promised Land. Both meat and the egg are not to be consumed before the other components on the Seder plate. These other components are a reminder of the bondage of the Jews in Egypt. The salt water, into which the "fruits of the earth" are dipped, symbolizes the tears shed during the Egyptian slavery. The Bitterkraut commemorates the bitter suffering. The brown, fruity puree reminds of the clay from which the Israelites had to make bricks for the rulers of Egypt and the matzoh stands for "the bread of the poor."
More To Explore:
The Renaissance of Israeli-Jewish Restaurants in Germany