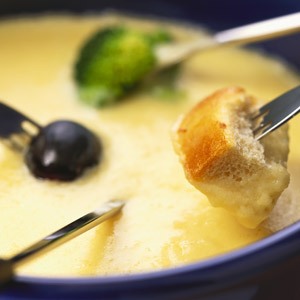 Culinary influences from Germany, Italy, and France combine to bring a unique and flavorful flair to Swiss cuisine. The Swiss use simple staples, like potatoes, cheese, and bread to create phenomenal dishes. In fact, Swiss cuisine offers a number of stylish specialties that are perfect for winter entertaining and weeknight comfort food.
Read on for a description of some of Switzerland's classic flavors. Then check out recipes for some of the classic dishes of Swiss cuisine, gathered in our Specialties of Switzerland Recipe Collection, including an exclusive recipe from Executive Chef Andreas Appenzeller of Hotel Frutt Lodge & Spa in Switzerland.
Cheese
Cheese making has been a major part of the Swiss culture for many generations, with countless small farms producing world-class cheese. There are hundreds of cheese varieties originating from Switzerland and, even today, these cheeses are not mass-produced; rather they are made in numerous small dairies under the strict direction of a federally degreed master cheese maker. The most commonly known is Emmentaler cheese, widely called Swiss cheese. Other specialty cheeses include Appenzeller, Sbrinz, Sapsago, Raclette, and Gruyère. These cheeses are great for Hors d'oeuvres or in classic Swiss dishes.
Raclette
The traditional Swiss meal of Raclette, perfect for cheese-indulgers, originates from the French word racler (to scrape off). Typically a quarter to a half of a wheel of raclette cheese is placed near a fire. As the cheese softens, a special knife is used to scrape it onto a plate. Raclette can be served over numerous foods. Traditionally boiled potatoes, pickled onions, pickles, and baby corn are placed on the plate, allowing the newly softened cheese to drape over them to create rich flavor. This meal is ideal to celebrate special occasions.
Fondue
The communal meal of cheese fondue, which is now greatly widespread, originates from Switzerland. In the center of the table, a heated caquelon (small pot) consists of melted Gruyère, Emmentaler, or other Swiss cheeses, combined with garlic, white wine, and lemon juice. Seasonings can vary, although the most common include paprika, pepper, and nutmeg. Using long forks, hungry patrons dip bread cubes into the mixture. Boiled potatoes, cocktail wieners, and even fruits can also be dunked into the cheese.
Geschnetzeltes and Rösti
Meat and potatoes? It sounds like the German really influenced these two dishes. Hash-brown potatoes, known as rösti, are a Swiss favorite. Freshly grated potatoes are made into patties, then topped with sweet or savory condiments. Additionally these potatoes can be placed in the oven sprinkled with delectable Swiss cheeses for a tasty meal. For convenience, you can purchase a pre-made rösti as well.
Geschnetzeltes, translated into "meat cut into strips", is a typical dish from Zürich. Its main ingredients are veal sliced into small strips, sliced mushrooms and a cream-based sauce. This specialty is typically served with rösti for a complete Swiss meal.
The Swiss love for chocolate began in the 1800s. The first chocolate factory, Cailler, was opened in 1819. As the industry gained speed, Swiss native Daniel Peter invented milk chocolate by adding condensed milk to pulverized cocoa and sugar in 1875. This caused the creation of the first chocolate bar in 1879, known as the Lindt Surfin bar. From that point on, the chocolate dynasty boomed. The Swiss have been documented to consume more chocolate per capita than any other country in the world.
To cook up some Swiss cuisine for yourself, browse our Swiss Recipe Collection, featuring an exclusive recipe from Executive Chef Andreas Appenzeller of Hotel Frutt Lodge & Spa in Switzerland.