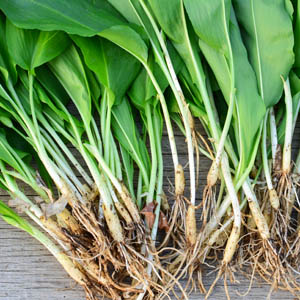 The zesty spring green most commonly known as ramps goes by many names in English, such as ramson (British), buckrams, wild garlic, broad-leaved garlic, wild leeks, wood garlic or bear's garlic. Known as 'Bärlauch' (bear's leek) in German, the name derives from the fact that brown bears like to eat the bulbs of the plant and dig up the ground to get at them, as do wild boar. European ramps, allium ursinum, is a wild-growing member of the allium family which includes chives, onion and garlic, and has always been popular among forager gourmets who aren't afraid of following their hunter-gatherer instinct when walking through the woods in spring. Both the bulbs and the leaves of ramps are edible, and are commonly added to salads, sauteed as a vegetable, or added as a seasoning to meat and fish dishes.
In recent years, however, there has been an unprecedented spike in the popularity of ramps among consumers in Germany, and they have found their way into mainstream cuisine and onto supermarket shelves. Ramps spice up a broad product range and can be found in different cheeses (cream cheese as well as artisan cheeses), in sausages and cold-cuts, in bread and pasta and an immensely popular version of pesto (Bärlauchpesto). (Browse our collection of recipes with ramps.
Ramps in Germany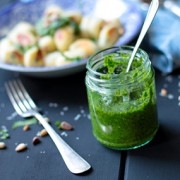 Ramps, or ramsons, grow mainly in moist deciduous woodlands, being most common in areas with slightly acidic soils. They can readily be found in most parts of Europe and Northern Asia. They flower before the trees get their leaves and fill the air with their characteristic strong smell. The stem is triangular in shape and the leaves are similar to those of the Lily of the Valley and two other wild-growing plants that are poisonous and may even be deadly. Thus it is well-advised to use some caution when harvesting ramps in the wild. A good way of ensuring that the leaves collected are in fact ramps or ramsons is grinding the leaves between one's fingers, which should produce an aromatic garlic-like smell.
The first evidence of the human use of wild garlic goes back all the way to the mesolithic period which is supported by archeological finds in Denmark and evidence from a neolithic settlement in Switzerland. Today wild garlic has such a strong fan base that several cities in Germany host festivals around the aromatic plant.  The town of Eberbach considers itself the wild garlic capital (Bärlauchhauptstadt), a title for which the city has secured the trademark. The annual wild garlic fair, Eberbacher Bärlauchtage, held in March and April, has become a major month-long event for fans of this zesty messenger of spring.
Ramps In North America
North American ramps, wild garlic or allium tricoccum, is widespread across eastern Canada and eastern United States. Its range includes the US state of South Carolina all the way to Quebec, Canada, and west to Missouri and Minnesota (see the USDA plant profile for a detailed map). In the southern United States, they're more likely to be found at higher elevations. It's interesting to note that the name of the US city Chicago originates from a French rendering of the indigenous word shikaakwa (Chick-Ah-Goo-Ah), which in the Miami-Illinois Algonquin language means "wild onions" or "skunk." The area may owe its name to the smell of rotting marshland wild leeks (ramps) that used to cover it.
Ramps were well known to native Americans, and used in cooking and as a tonic. The herb is especially popular in Central Appalachian cooking, perhaps most prominently in the US state of West Virginia. In the Canadian province of Quebec it has been declared an endangered, protected species. Quebec legislation mandates that person may have wild leek in his or her possession outside its natural environment or may harvest it for the purposes of personal consumption in an annual quantity not exceeding 200 grams of any of its parts, or a maximum of 50 bulbs or 50 plants, provided that these are not collected in a park within the meaning of the parks act. The protected status also prohibits any commercial transactions of wild leeks. This prevents restaurants from serving wild garlic as is done in the US. In Ontario, however, wild garlic may be legally harvested and sold.
The West Virginian town of Richwood lays claim to be the "Ramp Capital of the World" and holds a festival in April. Sponsored by the National Ramp Association, the annual 'Ramp Feed' (as it is locally known) brings thousands of ramps aficianados from considerable distances to sample foods featuring the plant. The Richwood festival is a one-day event with a 70-year history. During the entire ramp season (late winter through early spring), local restaurants serve a wide variety of foods containing wild leeks. In fact, many of the states along the Appalachian Mountains hold similar celebrations in honor of the wild-growing delicacy.
RELATED CONTENT: