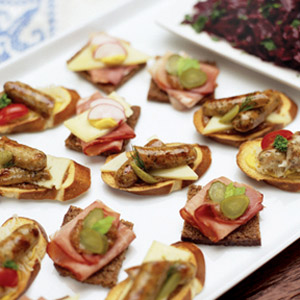 German party sandwich ideas from Roz Denny 'Modern German Cooking.' German breads, meats and cheese make a party sandwich platter with garnishes.
Ingredients
Whole Rye Bread

Katenbrot

Wholegrain bread

Vollkornbrot

pumpernickel

Sunflower Seed bread

Three Seed Bread

Mehrkornbrot

Crispbreads

Knäckerbrot

prosciutto

Black forest ham

variety of German cheeses

fresh herbs

pickled vegetables
Cut bread into decorative shapes, or alternatively buy the breads as cocktail rounds.

Spread each piece of bread with butter and layer with German cheeses such as Butter cheese (Butterkäse), Tilsit, Emmentaler, Brie, Camembert or Bavarian Bleu cheese.

Add various other toppings such as lettuce leaves, Black Forest ham, prosciutto, hard-boiled eggs, cooked white German asparagus, herrings and German mustard.

Pickled red cabbage makes a decorative garnish, as do any of the German pickled vegetables. A sprig of fresh dill or parsley and some ground black pepper adds a nice touch.
Recipe courtesy of Roz Denny, Modern German Cooking
German party sandwich ideas from Roz Denny 'Modern German Cooking.' German breads, meats and cheese make a party sandwich platter with garnishes.

Ingredients

Whole Rye Bread

Katenbrot

Wholegrain bread

Vollkornbrot

pumpernickel

Sunflower Seed bread

Three Seed Bread

Mehrkornbrot

Crispbreads

Knäckerbrot

prosciutto

Black forest ham

variety of German cheeses

fresh herbs

pickled vegetables

Cut bread into decorative shapes, or alternatively buy the breads as cocktail rounds.

Spread each piece of bread with butter and layer with German cheeses such as Butter cheese (Butterkäse), Tilsit, Emmentaler, Brie, Camembert or Bavarian Bleu cheese.

Add various other toppings such as lettuce leaves, Black Forest ham, prosciutto, hard-boiled eggs, cooked white German asparagus, herrings and German mustard.

Pickled red cabbage makes a decorative garnish, as do any of the German pickled vegetables. A sprig of fresh dill or parsley and some ground black pepper adds a nice touch.

Recipe courtesy of Roz Denny, Modern German Cooking