Tarte flambée is like an Alsatian version of an Italian Pizza. Traditionally, it is cooked quickly at very high temperature in a wood-fired oven and takes its name from the fact that the edge of the dough often catches fire in the intense heat of the oven. Depending on where you are, this tart is known as Flammekueche in Alsace, Tarth Flambée in France, and Flammkuchen in German. By whatever name, its a flat bread base, topped with a simple white cheese such as fromage blanc or crème fraîche, diced cured ham (lardons), and onions. Some recipes replace the crème fraîche with sour or even sweet cream, and the variety of ham tends to be local. As far as the asparagus, try all white or a mix of white and green spears, simply cooked in water, or even charred ongrilled.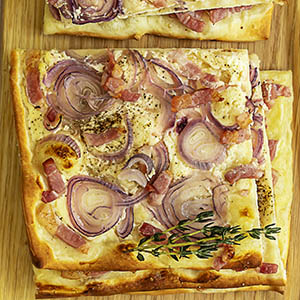 Ingredients
white asparagus

600g

4

tbsp

olive oil

cold pressed

2

tbsp

parsley

finely chopped

crème fraîche

150g

salt

pepper

Parmesan

50g

ham

wheat flour

250g, Type 405

fresh yeast

15g

2

tbsp

olive oil

cold pressed

1/2

tsp

salt
Instructions
For the yeast dough, put the flour in a bowl. Make a well in the middle, crumble in the yeast and mix with 125 ml of lukewarm water and some flour from the edge. Cover bowl with a cloth. Leave the pre-dough to rise for about 20 minutes in a warm, draft-free place.

Add oil and salt to the pre-dough, knead vigorously and beat to form a smooth dough. Form a ball and leave covered for a another 45 minutes until doubled in volume.

For the asparagus topping:

Cut off the bottom of the asparagus spears and use a vegetable peeler to peel the spears from top to bottom. Start just below the head and peel thicker towards the bottom.

Preheat the oven to 485 F (250 C). Divide the yeast dough into 4 portions, roll each out into a 1 cm thick long flatbread and place on a baking tray lined with baking paper. Cover with a towel and let rise for 10 minutes.

Cut the asparagus into thirds and cook in boiling salted water for 5-6 minutes. Lift out with a sieve and drain well.

Mix the crème fraîche with a pinch of salt and a little pepper until smooth. Spread the crème fraîche on the flatbreads. Lay the asparagus spears on top and sprinkle the grated parmesan over them.

Bake the flatbreads in the oven for 10-15 minutes until crispy. Mix olive oil with parsley and season with salt and pepper. Take the tarte flambée out of the oven and drizzle with the herb oil. Place the ham slices on the hot tarte flambée and serve immediately.
Translated and adapted from Edeka.de