Baked apples stuffed with crumbled chocolate-covered German gingerbread (lebkuchen), garnished with whipped cream and crystallized ginger—what a holiday treat!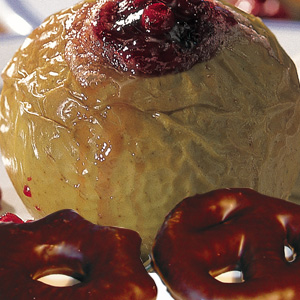 Ingredients
For the Honey Syrup:
1/2

cup

honey

1/2

cup

brown sugar

1

cup

water

2

tablespoons

butter
For the garnish:
1

cup

whipped cream

1

tablespoon

powdered sugar

crystallized ginger slivers
Instructions
For the honey syrup:
Combine 1/2 cup honey and 1/2 cup brown sugar, 1 cup water and 2 tablespoons butter in small saucepan and bring to a boil. Keep warm to brush on apples.
For the filling:
Crumble Lebkuchen into small pieces and place into a bowl. Add crystallized ginger and nuts. Melt honey and butter in microwave together and add to bowl. Stir to combine and set aside.
For the gingerbread apples:
Preheat oven to 375 degrees F.

Core the apples without cutting through the base. With a knife or melon baller, remove some of the inside of the apple to make room for the filling. Place apples in a 12 x 7.5 x 2 inch baking dish. Spoon the prepared filling into the opening in the apples, packing it down lightly.

Brush apples liberally with honey syrup and pour remainder around apples. Bake uncovered at 375° F for 45 minutes or until the apples are tender, basting occasionally. Let cool for 15 minutes. Whip cream with powdered sugar. Serve apples with a dollop of whipping cream and garnish with slivers of crystallized ginger.