These dumplings are easy to make with Zwieback and parsley. They make a great side dish for creamy mushroom ragout.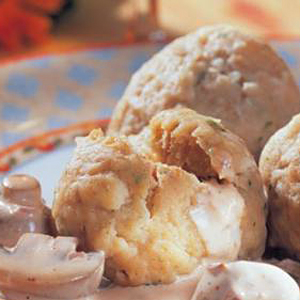 Bayerische Zwiebackknödel
Instructions
Finely crumble 4 Zwieback toasts, and put the rest of the Zwieback toasts into a large bowl. Heat the milk to lukewarm, add a pinch of salt, and pour over the Zwieback toasts. Soak for 20 minutes.

Peel the onion, dice fine, and sauté in melted butter until translucent. Add the onion, parsley, eggs, Zwieback crumbs, and flour to the milk-soaked Zwieback toasts and stir vigorously to make a smooth dough. Let rest for another 20 minutes.

Form dumplings with moistened hands and cook in boiling salted water for about 20 minutes. Drain and serve. Tastes great with a mushroom ragout with cream sauce.
Recipe courtesy of Brandt Zwieback
Notes
Preparation Time under 50 minutes