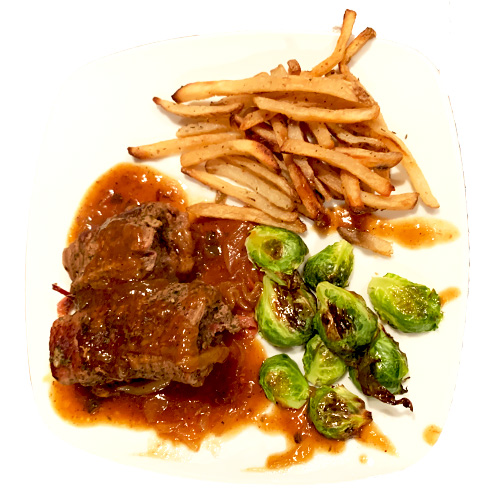 Rouladen (from the French rouler, "to roll up) is a traditional German/Central European dish best consumed with pan gravy. Also suitable as a meat snack on-the-go. Use very thin slices of quality-cut beef and Black Forest ham.
Instructions
Cut the Black Forest ham into small strips and place them in a cold skillet. Cook over medium heat until crisp.

Very finely chop one of the onions. Discard some of the ham fat and saute the onion with the ham until translucent. Remove from heat and add the gherkins.

Spread the meat slices on a large cutting board or a clean work surface. Rub each piece with pepper and brush with ½ teaspoon mustard. Divide the filling into 4 equal portions and spread them on the meat, leaving ½ inch on each long side to keep the filling inside of the roll-up. Roll up the meat tightly, starting from the narrow side, and tie securely with twine.

Heat the vegetable oil in a saucepan large enough to hold all the roll-ups in a single layer. Brown the roll-ups on all sides.

Quarter the remaining onion and add it to the roll-ups along with the broth. Cover and simmer for 1½ hours, or until the meat is tender. Turn the roll-ups every so often and check that there is always 1 inch of liquid at the bottom of the pan. Add a little hot water as needed.

Take the roll-ups out of the pan and remove the twine. Keep them warm in aluminum foil while you puree the gravy. Pour the pureed gravy back into the pan and increase the heat to reduce the gravy. When it thickens, remove the pan from the heat.

Add crème fraîche, salt and pepper to the gravy. Serve the roll-ups and gravy separately and enjoy!
Notes
To achieve the perfect beef slices:
Roast beef with desired seasoning to preferred tenderness.
Allow the beef to cool then wrap it tightly in plastic wrap and freeze for about 30 minutes.
Slice the beef into thin slices, about a quarter-inch thick.
For an extra kick, substitute Dijon mustard with Lowensenf Extra Hot Mustard.
Make your own crème fraîche using our recipe.
Related cookware:
Küchenprofi Rouladen Clips