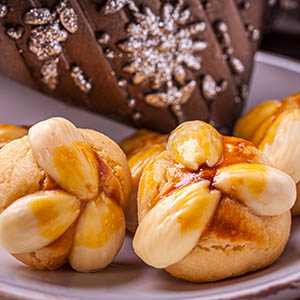 Ingredients
Instructions
Preheat oven to 350ºF. Line cookie sheets with baking parchment.

Chop the marzipan into pieces and place in a big bowl. Sift the powdered sugar into the bowl. Add the ground almonds, flour, egg whites, and orange liquor to the mixture. Knead well.

Form small balls of dough and place on prepared cookie sheets. Take 3 almond halves and press them into each ball, forming a star-like decoration.

In a small bowl whisk together the milk and egg yolks. Brush the mixture on the top of each cookie.

Bake for about 12-15 minutes.
Recipe adapted from chefkoch.de