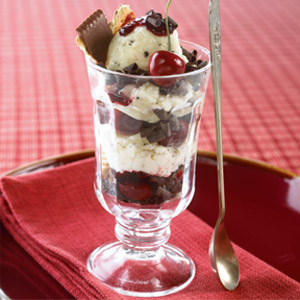 A parfait with flavors of Germany's Black Forest - cherries, raspberry, and dark chocolate. Black Forest parfait is easy to make with purchased ice cream, German kirsch, chocolate, raspberry preserves, cherries and cookies.
Instructions
Drain cherries; place in medium glass bowl with kirsch. Allow to stand 1 hour to overnight.

Have 4 parfait glasses ready to fill. Layer each parfait glass with kirsch soaked cherries, chocolate shavings, Bahlsen cookie pieces and ice cream. Top each parfait with a fresh, whole stemmed cherry and additional chocolate shavings. Serve immediately.

Prep time: 20 minutes (plus extra stand time)
Exclusive recipe from Chef Faith Alahverdian, Shoprite Culinary Workshops
Notes
Chocolate shavings may be made by using a vegetable peeler and a bar of chocolate.