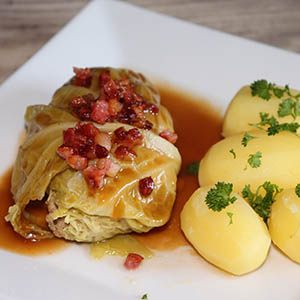 Brandenburger Kohlroulade
Stuffed cabbage rolls sauteed with bacon in a creamy tomato sauce. Serve with potatoes.
Ingredients
1

white (light green) cabbage

18

ounces

ground meat

7

ounces

onions

2

tablespoons

sour cream

1

cup

broth

1

bun

3-1/2

ounces

bacon

4

teaspoons

milk

6

slices

coarse rye bread

(Schwarzbrot)

7

oz

tomatoes

1

bunch

parsley

salt and pepper
Instructions
Blanch the white cabbage in a big pot for about half an hour. Add some coarse rye bread to the blanched water. Then, remove leaves from the head of the cabbage. Take 3 to 4 leaves for one stuffed cabbage (Kohlroulade).
For the filling:
Mix ground meat with diced onions, salt, pepper, soaked bun and coarse rye bread croutons.

Place equal portions of the meat filling on the cabbage leaves and roll it up in the leaves. Wrap a yarn around each stuffed cabbage to prevent them from unraveling.

Take a big pot and sauté the bacon. Place the stuffed cabbage in the same pot under low heat and sauté until medium brown. Add water and broth, cover up the pot and let it stew for about 30 minutes. After 20 minutes, add sour cream, diced tomatoes and parsley to the pot.

As a side dish we recommend potatoes. Guten Appetit!