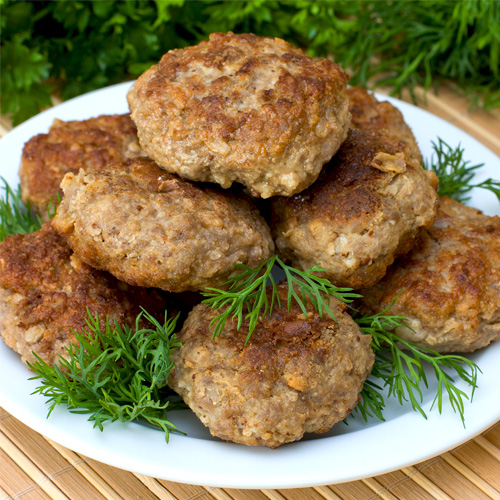 Frikadellen, Buletten, Fleischpflanzerl
Buletten, also known as Frikadellen (Cologne) and Fleischpflanzerl (Bavaria) are made of ground beef/pork mixed with softened Brötchen (bread rolls). They are one of Berlin's favorite dishes. Served hot, mainly cold, with a pickle and hot mustard and eaten plain by hand or on a Schrippe (another word for breakfast roll). They're served in corner bars, at snack stands, or at home. Served on top of sauerkraut, Berliners call them Pferdeäppel auf Heu (Road Apples on Hay). Other side dishes that go well with hot or cold Buletten are potato salad, french fries or mashed potatoes. Tip: The "mushier" the softened bread, the lighter the meatballs will be. The harder the bread is, the firmer the meatballs' consistency will be — but that's a matter of taste in Berlin, or, in the spirit of Prussian King Friedrich II, a.k.a Old Fritz, "To each his own."
Region
Cologne, Berlin, Bavaria
Ingredients
1

pound

of a mixture of ground beef and ground pork

or just ground pork

2

rolls

sliced or in strips, 1 to 2 days old

1

large onion

1

tablespoon

fresh

chopped parsley

2

small eggs

salt

pepper
For the frying pan:
8

tablespoons

vegetable oil

approximately

1

tablespoon

butter
Instructions
Place the bread strips in a bowl and pour in about 1 cup of lukewarm water, cover with a dish cloth. Peel and dice the onion.

Knead the ground meat with the eggs, parsley, and the softened bread. Season with salt and pepper. With damp hands, form the mixture into about 8 balls, then flatten them partially.

Heat the vegetable oil in a large pan and brown both sides of the meatballs well. Turn the heat down to medium and fry for another 10 or 15 minutes, adding the butter during this time.

Remove the meatballs from the pan and let them drain on paper towels. Best served with potato salad, rolls, and mustard.
Recipe from Berlin Cookbook by Rose Marie Donhauser, used with permission from Berlinica Publishing, LLC