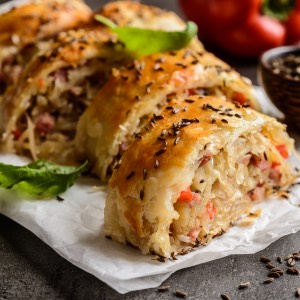 Ingredients
1

green cabbage

2 pounds

6

slices

bacon

1

onion

medium

1

bunch

parsley

chopped

1

tsp

caraway seed

2

tsp

sugar

1

apple cider vinegar

2

tsp

salt

2

pieces

strudel puff pastry

ready-made or home-made

1

tbsp

butter

1

tbsp

lard

tsp

pepper
Instructions
Remove the stem from the cabbage and cut the remember into fine strips. Chop the bacon and the onion, and roast them in lard. Then sprinkle the sugar over them, and let caramelize for a moment before deglazing the pan with vinegar.

Now add the cabbage and immediately salt it well, so that the cabbage releases some water. Ssseason with caraway seeds and pepper and leave covered on the stove until the cabbage is firm to the bite (stir again and again!).

In the meantime, spread out the strudel dough. When it has cooled down a bit, spread the cabbage filling on the dough and then roll up the dough.

Bake the strudel in the oven for about 20 minutes at 200 degrees Centigrade (~400 degress Fahrenheit) until golden yellow.
Recipe adapted from GuteKueche.at