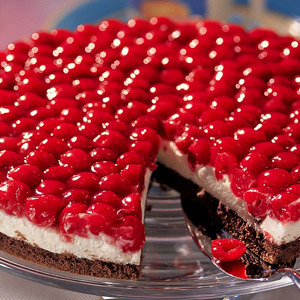 Schokoladen und Kirsch Torte
Make a light textured dark chocolate cake in the shape of a spongecake flan base. Top with whipped cream and Quark and either fresh raspberries or cherries in syrup with a little thickened juice from the fruits.
Ingredients
3-1/2

oz

caster sugar

very fine granulated sugar

1/2

teaspoon

vanilla extract

4

free-range eggs

3-1/2

oz

plain flour

1/2

teaspoon

baking powder

1

oz

cocoa powder

3-1/2

oz

ground hazelnuts or almonds

3-1/2

oz

grated chocolate

24

oz

jar cherries in syrup

1

teaspoon

corn flour or potato starch

7

oz

double cream

4-1/2

oz

Quark or substitute

125 g, 1/2 of a 250 g tub

1

tablespoon

caster sugar

or to taste
Instructions
Grease a 28 cm (11-inch) sponge flan tin and dust lightly with a little flour. Heat the oven to 35O degrees F.

Whisk the sugar, vanilla sugar or essence with the eggs until thick and creamy when the mixture leaves a trail when the beaters are lifted up. This is best done with an electric whisk.

Sift the flour, baking powder and cocoa powder together. Fold into the mixture then add the nuts and grated chocolate.

Spoon into the tin, level the top and bake for about 30 minutes, until firm and cooked. Cool for 5 minutes in the tin, then turn out and cool completely.

Drain the cherries , reserving 100 ml of the juice.(Use the rest in a jelly or drink if you don't want to waste it.) Slake the corn flour or potato starch with a tablespoon of the juice.

Heat the saved juice until boiling. Mix a little hot liquid with the slaked starch and then p our all of it into the pan and simmer until thickened. Cool slightly then mix with the fruits and cool completely until glossy.

Whip the cream until it forms soft peaks and fold in the Quark and a tablespoon of caster sugar. Spoon on top of the flan case. Drizzle over the glossy fruits. Cool until set then serve cut in wedges.
Recipe courtesy of Roz Denny, Modern German Food