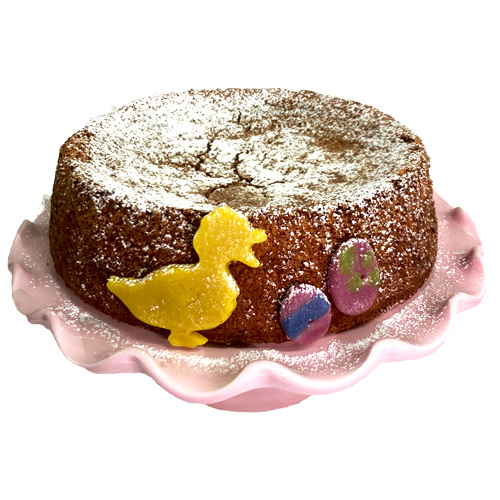 A festive spiced, nutty carrot cake decorated with marzipan Easter eggs, bunnies and hens, perfect for Easter Sunday dessert.
Ingredients
For the Cake:
10

oz

ground almonds

2

tbsp

breadcrumbs

3

tbsp

cornstarch

1

tsp

baking powder

1

tsp

cinnamon

peel of one lemon

2

medium-sized carrots

2

small apples

6

fresh eggs

10

oz

sugar

1

pinch

salt
For the Decoration:
4

oz

white marzipan

2-1/2

oz

confectioner's sugar

red and yellow food coloring

1/4

tsp

cocoa powder

egg white from 1 egg

5

oz

confectioner's sugar

green decorative leaves

decorative sugar flowers
Instructions
Mix together the almonds, bread crumbs, cornstarch, baking powder cinnamon and lemon peel. Peel the carrots and the apples and grate them finely.

Separate the eggs. Beat together the egg yolks with 4 ounces of the sugar until you get a pale yellow color. In a separate bowl, beat the egg whites together with the salt, gradually adding the rest of the sugar sugar, and continue beating until stiff beaks form and the mixture turns to an opaque color. Mix the grated carrots and apple with the egg yolk, then mix in the almond mixture, and carefully fold in the stiffened egg white mixture into the mix.

Line a 10 inch spring form pan with baking paper and pour in the batter. Bake in a pre-heated oven at 350° F for 45 minutes. Remove from the oven, loosen the cake from the form and allow to cool on a baking tray.

For the decoration, break up the marzipan and knead it together with the confectioners' sugar, divide into 3 portions and color each portion.

Place the marzipan between two layers of plastic wrap, roll out and cut out Easter shapes of your choice.

For the glaze mix the egg white with the confectioners' sugar. Put the glaze in a plastic sandwich bag and cut a tiny corner. Use the glaze to decorate the marzipan eggs with fine lines.

Sprinkle the cake generously with confectioners' sugar and decorate the outside rim with the marzipan shapes.