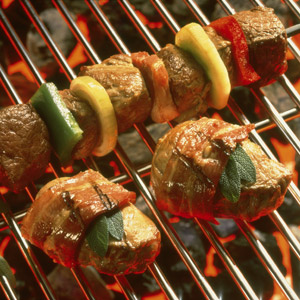 Schweinenackensteaks in Altbiermarinade
Grilled skewers (kabobs) are hugely popular in Germany. This flavorful version uses different types of meat (beef, pork, lamb, veal) with onions, bell peppers and sage.
Ingredients
1/3

lb

beef fillet

150g

1/3

lb

pork fillet

150g

1/3

lb

lamb fillet

150g

7

oz

veal fillet

200g

2

oz

double-smoked bacon or salt pork (Speck)

sliced thick, 60g

4

slices

Black Forest prosciutto

2

onions

2

red and green bell peppers

salt and pepper

paprika

melted butter for basting

8

small sage leaves

8

skewers
Instructions
Cut the beef, pork and lamb into large cubes. Slice the double-smoked bacon, onions and bell peppers. Divide meats and vegetables evenly among the 8 skewers. Cut the veal fillet in 4 slices and wrap them in the prosciutto. Season everything with salt and pepper, baste with melted butter and grill for about 5 minutes per side.

Garnish the veal fillets with sage and season the skewers with paprika.

Serve with different kinds of fresh bread.