Creamed potatoes is a hearty side dish that stands up to the harsh winters of East Prussia. East Prussia was, as the name indicates, the easternmost part of the kingdom of Prussia. After World War II, it was divided between Poland and Russia. In East Prussia, winters were long and cold, and the food was hearty and solid. Schmand, a thick cream with at least 20 percent fat, was an indispensable ingredient in many dishes and so popular that it even found its way into nostalgic poems about this land lost forever. Made with sour cream, this is a great accompaniment for leftover roast meats, cold cured meats, or grilled fish.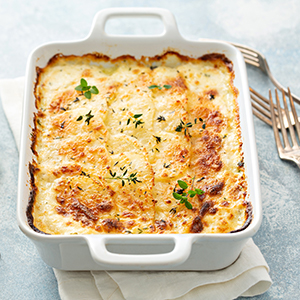 Schmandkartoffeln mit Dill
Ingredients
2

lbs

red or other low-starch potatoes

2

tbsp

vegetable oil or butter

1

med

yellow onion

peeled and finely chopped

1

cup

sour cream

1/4

cup

fresh dill

very finely chopped

salt and freshly milled black pepper
Instructions
Scrub the potatoes with a brush. Boil them in salted water until just tender. Rinse the potatoes under cold water to cool. Remove the skins and cut them into 1/2-inch slices.

Heat the oil in a large skillet. Sauté the onion until translucent. Add the potatoes and brown them lightly.

In a small bowl, combine the sour cream with the dill. Pour the mixture over the potatoes in the skillet and reduce the heat. Reheat the potatoes thoroughly but do not cook. Season with salt and pepper.
Recipe courtesy of Nadia Hassani, Spoonfuls of Germany