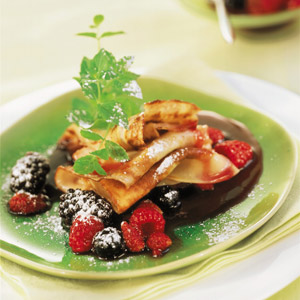 Flambierte Crêpes im Waldbeerenmeer
Delicate crêpes combine with flavorful forest berries, citrus and liqueurs to create this spectacular dessert. A feast for the eyes and the stomach!
Ingredients
4

tablespoons

brandy

4

tablespoons

orange liqueur

3

tablespoons

forest berry jam

2

oranges

2

lemons

1

cup

confectioner's sugar

100g

3

tablespoons

crème de cassis

2/3

lb

forest berries

fresh or frozen, plus more for decorating

1

tablespoon

butter

1

tablespoon

cognac

1

pinch

Salt

1/2

tablespoon

vanilla sugar

1/2

cup

milk

1

egg

3

tablespoons

confectioner's sugar

1/2

cup

flour

50g
Instructions
Sift the flour and confectioner's sugar into a mixing bowl. In a separate bowl combine and beat the egg and the milk. Add the liquid ingredients to the flour mixture under constant stirring. Add the vanilla sugar, salt and cognac to the mixing bowl. Let the mixture rest for about 10 minutes.

Meanwhile, wash and clean the fresh forest berries or thaw the frozen fruit. In a medium saucepan combine the berries, Crème de Cassis and confectioner's sugar and boil for 3-4 minutes. Add the juice of 1 lemon. Let the sauce cool down and pour it onto four serving plates.

Melt the butter in a pan suited for crêpes-making and prepare four thin crêpes. If necessary place them in a 120-150 degrees oven to keep them warm.

Combine the juice of 1 lemon and 2 oranges with the orange liqueur, add the forest berry jam and heat the mixture. Fold the crêpes twice (to form quarters) and place them into the sauce. Douse with brandy and carefully light the liquid. Arrange the crêpes on the serving plates, decorate with fresh berries, dust with confectioner's sugar and serve immediately.