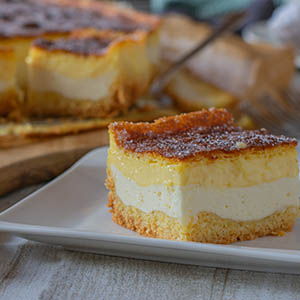 Egg custard cake with a pie crust, vanilla quark layer, and egg-flavored top layer. A staple at Dresden cafés, pairs deliciously with coffee.
Ingredients
For the filling:
3-1/2

tbsp

butter

1/2

cup

sugar

1

pinch

salt

2

eggs

2

cups

quark

3

tbsp

vanilla pudding mix

grated zest of 1/2 lemon

1

tbsp

ground almonds
For the frosting:
3

eggs

1/4

cup

sugar

2

tbsp

butter

1/2

tbsp

cornstarch

1-1/2

tbsp

brandy
Instructions
Baking Instructions:

Preheat oven to 400°F/200°C.

For the dough, mix the flour, sugar, salt and butter in a bowl. Dissolve the yeast in the lukewarm milk and gradually knead into the flour mixture. Continue to knead until the dough throws bubbles and pulls away from the edge of the bowl. Cover and let dough rise for at least 1 hour.

Knead the dough again thoroughly and roll out on a floured surface to make a circle approximately 11" diameter. Place the sheet of dough into a greased springform pan (11 inch). Cover and let rise for 15 minutes.

Meanwhile, beat the butter until creamy, then beat in the eggs together with a pinch of salt. Fold in the quark, pudding mix, lemon zest and almonds. Spread the filling mixture over the dough.

For the frosting layer, mix the eggs with sugar, butter, cornstarch and brandy. Heat in a double boiler over hot water, beating until thick and creamy. Let it just come to a boil. Remove from the heat and spread onto the quark filling.

Bake at 400°F/200°C for about 45 minutes.
Notes
Preparation time: 30 minutes