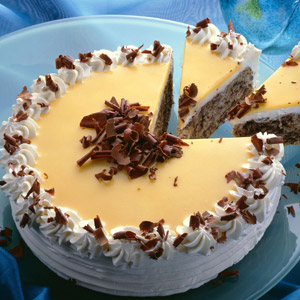 Ingredients
For the dough:
3

fresh egg yolks

4

tablespoons

hot water

1

package

vanilla sugar

5/8

cup

caster sugar

60g

3

fresh egg whites

1/3

cup

sugar

60 g

1

teaspoon

lemon juice

1

cup

flour

120 g

1/4

tsp

baking powder

1

tablespoon

cocoa
For the cream:
2

packages

chocolate wafer rolls

8-9

oz

cream cheese

250 g

2

cups

superfine sugar

200g

5-1/2

packets

gelatin

12 sheets

1-1/2

cups

eggnog

2

cups

whipping cream

1

chocolate bar

12-16

chocolate dipped waffle rolls or chocolate eggs
Instructions
For the dough:
Beat egg yolks, hot water, vanilla sugar and superfine sugar until fluffy. Beat eggs until stiff snow-cap like peaks form, then together with the sugar and the lemon juice, fold into the egg yolk mixture. Mix together the flour, baking powder and cocoa and mix fold into the egg yolk mixture.
For the cream:
Soak the gelatin according to the instructions and dissolve while stirring. Mix the cream cheese with powdered sugar and egg nog. Whip the cream and fold into the cream cheese mixture. Then add in the dissolved gelatin -- first mix a bit of whipped cream into the gelatin, then mix that into the remaining whipped cream mixture. Grate the chocolate and mix in.
Presentation:
Stand chocolate-dipped waffle rolls inside a cake ring. Add the dough to cover the bottom and up the sides of the waffle rolls. Pour the cream mixture in and finally top with chocolate eggs spread on the cake as decoration.
Notes
Nutritional information (for 12 slices):
490 cal per slice, 20.5 g fat, 61.6 g carbohydrates, 8.3 g of protein