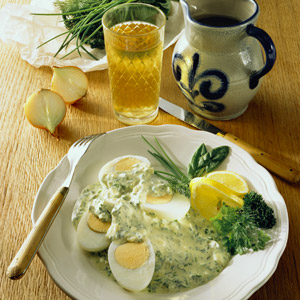 Hard boiled eggs with a green spring herb sauce, garnished with watercress. A perfect dish for Easter brunch. Serve with salad an French bread.
Ingredients
2

tablespoons

butter

2

heaping tablespoons

all-purpose flour

2

cups

bouillon

juice of one lemon

1/2

teaspoon

German prepared mustard

salt and pepper to taste

2

tablespoons

plain yogurt

2

tablespoons

finely chopped parsley

2

tablespoons

finely chopped chives

2

tablespoons

finely chopped dill

2

tablespoons

watercress

8

fresh eggs
Instructions
To prepare the sauce:

Heat butter in a saucepan. Add flour and mix with melted butter, stirring constantly. Add bouillon slowly, stirring into the flour and butter mixture. Bring to a boil, stirring constantly. Remove from heat. Add lemon juice, yogurt, salt and pepper and the finely chopped herbs (except watercress).
To prepare eggs:
Hard boil eggs, rinse with cold water, peel and cut in half lengthwise. Pour the hot or cold sauce over the eggs and garnish with watercress.

Serve with salad and French bread.