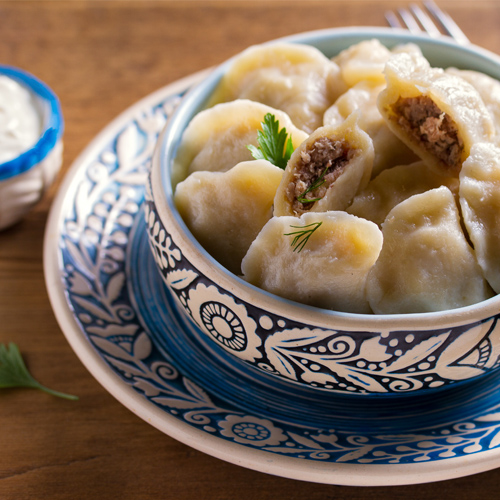 Varenyky Knödel mit Bratkartoffeln
Dumplings filled with fried seasoned potato cubes, onions, sauerkraut and leeks, served boiled or fried with sour cream. A variation of a Ukrainian national dish. Authentic Ukrainian Varenyky (related to Polish Pierogi or German Maultaschen) are usually filled with mashed potatoes and fried onions. This is a slight variation. Add meat, if desired.
Ingredients
For the topping
1

cup

spring onions, parsley and dill, diced

8

oz

sour cream
Instructions
Making the dough
Sift flour, combine in medium bowl with salt, eggs, milk and vegetable oil

Mix by hand and knead into smooth dough. Cover bowl and let rest for 30 minutes at room temperature.

Divide the dough into 3 pieces. Roll each piece on a floured surface to a thickness of about 1/8 inch (3mm).

Use glass or round cookie cutter and cut circles of about 4 inches
Making the filling
Cut potatoes into small 1/4 inch cubes

Dice onions into small pieces

Cut leeks into 3/4 in slices

Fry onions in vegetable oil and butter, until golden brown. Set aside

Mix seasoning with potato cube, place cubes into pan, add vegetable oil, if needed, and fry until lightly browned and tender. Add leeks and fry for another 3-4 minutes at medium heat until crips and brown. Remove from pan

Mix onions, potatoes and sauerkraut.
Filling the dumplings
Spoon the filling into the middle of the dough circles

Fold circle into half to form a semi-circle and pinch the edges with wet hands. Make 10 dumplings

Place dumplings into freezer for 30 minutes or overnight
Cooking and serving the dumplings
Bring a large pot of water to a boil. Drop 10 dumplings into water and cook for 3-5 minutes until they float on the surface.

Remove from the water with a slotted spoon and lightly brush each dumpling with oil to prevent sticking. If desired, fry dumplings to achieve a crips surface

Sprinkle with spring onions, parsley and dill and serve with a side of sour cream
Adapted from allrecipes and 196flavors