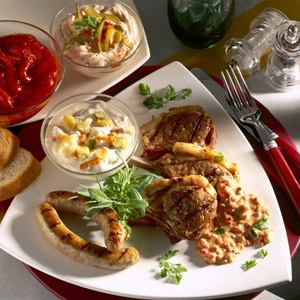 Home cooks and chefs in Germany and North America have many things in common, one of them being their passion for barbecuing and grilling. What better way to enjoy the long, warm days of summer than to move cooking with friends and family outdoors? The German word for this popular activity is Grillen and summer is definitely Grillparty season. These delicious German barbecue recipes may give you fresh ideas for a German spin on your next grill party.
What would a barbecue be without a great sausage hot dog topped with sauerkraut and mustard accompanied by potato salad and pickles and washed down with a refreshing glass of beer? All these "American" foods and beverages have traditions in German culture. While the German roots of this quintessentially American meal may be almost forgotten, professional and leisure chefs can add zing and a new twist with the addition of some authentic, modern German ingredients.
Hot off the Grill
A typical selection of popular meats and vegetables for the grill, combined with scrumptious baked potatoes.
Beef, pork and lamb combine with vegetables and sage to produce these sensationally flavorful skewers.
A grilled chicken using both German dark beer and German mustard in the marinade.
Salads
A red cabbage slaw with a sweet and pungent dressing.
A colorful salad for the buffet table to be served as a side salad for sliced cold meats or as a vegetarian meal.
German potato salads are not just for serving as an accompaniment to a cold meal. There are many hot dishes that are complemented by a good potato salad.
German potato salads are mostly made with meat stock or oil and vinegar dressing, creating a more healthful dish that is more likely to withstand hot summer temperatures at a backyard barbecue.
This recipe is easy to make because the potatoes and lentils may be cooked together. It may be halved.
German spätzle is a wonderful choice in any pasta salad because it has such a satisfying texture. This recipe may be halved.
Juice Spritzers (Saftschorle)
Germans love aromatic fruit juices, particularly apple juice Apfelsaft. Fruit juices are commonly mixed with sparkling mineral water for a healthy, refreshing drink called Schorle. In fact, Apfelschorle (apple juice spritzer) is one of the most popular soft drinks in Germany.
There are competing schools among Schorle fans when it comes to the juice-water ratio: 1/2 and 1:1 are very common, but 1:3 and 2:3 mixtures are also popular. It really just comes down to personal preference. So take your favorite juice and experiment until you find the mixture that you like best.
Alcoholic Drinks
Make your own version of this extremely popular, refreshing drink by mixing 1 part chilled German beer to one part chilled lemon/lime-flavored soda such as Sprite or 7-Up.
This refreshing cooler made with German Hefeweizen (wheat beer), sparkling wine and raspberries.
The flavors of different fresh fruits and dark German beer come together in this great punch.
Fresh berries, a touch of citrus and German white and sparkling wines.