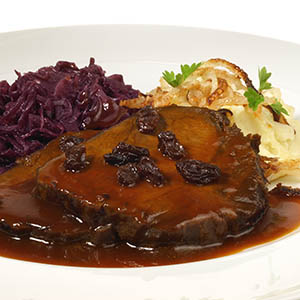 Sauerbraten auf Rheinischer Art
Ingredients
3

cups

red wine vinegar

2

cups

water

1

Tbsp

salt

pinch

allspice

pinch

cinnamon

pinch

cloves

ground or whole

1

bay leaf

4

pounds

tri-tip beef roast

about 2 medium pieces of meat

1/2

white onion

cut into 1-inch cubes

1

carrot

cut into 1-inch cubes

1

stalk celery

cut into 1-inch cubes

2

Tbsp

vegetable oil

2

Tbsp

tomato paste

2

Tbsp

all-purpose flour

3

cups

red wine

salt and pepper to taste

1/2

cup

raisins
Instructions
First, make marinade: Combine vinegar, water, salt, allspice, cinnamon, cloves and bay leaf in a large metal roasting pan. Add beef, onion, carrot and celery. If the liquid doesn't cover all the meat, add more vinegar. Cover tightly with plastic and marinate, refrigerated, for 4 to 5 days.

Remove meat from marinade. Strain marinade and return it to the pan, reserving vegetables. Place pan over two burners and bring to a boil; skim off any oil that floats to the top.

Heat oil in a large pot or Dutch oven. Brown meat on all sides over high heat. Remove and set aside. Brown vegetables over medium-high heat. Add tomato paste and lower heat to medium; stir and cook until very dark and caramelized, but don't let it smoke. Add a cup of water and loosen the caramelized tomato paste from the bottom of the pan.

Cook the liquid over medium heat, stirring, until it reduces to a sauce. Repeat 3 to 4 more times. (It's a long process, but it's worth it!) Dust pan with flour and stir.

Replace meat in pan. Add red wine and water to cover. Bring to a simmer; turn heat to medium-low and let simmer gently for 45 minutes to 1 hour, until meat shreds. Remove meat, place on a platter, cover with foil and place in a warm oven. To finish sauce, push through a fine strainer, and reduce until desired thickness is achieved. Season with salt and pepper. Stir in raisins.
Recipe adapted from Chef Ludger Szmania at SZMANIA's