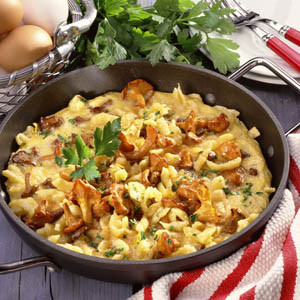 Whether you're celebrating Mother's Day, a graduation, bridal shower or just enjoying a beautiful spring day, these unique German-inspired brunch recipes will wow your guests and make your special occasion a day to remember.
Starters
Zucchinisuppe und Pumpernickeltoast mit Kräuterquark. Pumpernickel makes delicious little toasted croutons which can be spread with green-herb-flavored quark to float on top of soup or served alongside. Spinach leaves give this light creamed vegetable soup its fresh green color.
Canapes of smoked mackerel topped with a apple-horseradish cream, garnished with chervil. Recipe courtesy of Chef Uta Schepers.
Fruity Brunch Dishes
Kirsch Auflauf mit Butterkäse. Cherries marinated in lightly spiced wine and Kirschwasser nestled in an airy butter cheese soufflé make for a delightful contrast in flavors and textures.
Grießwaffeln mit Erbeeren und Sahne. Homemade semolina waffles topped with flavored strawberries and whipped cream make a great brunch or romantic breakfast. Perfect for Valentine's, Mother's Day or just as a special weekend treat.
Mandelwaffeln mit Himbeercreme. Homemade almond-flavored waffles with raspberry cream, topped with fresh raspberries. Makes a great brunch or romantic breakfast dish.
Haselnusswaffeln mit Brombeercreme. Hazelnut flavored waffles served with blackberry cream and topped with fresh blackberries make a great brunch or romantic breakfast dish.
Lunch Dishes
Frutt Sbrinz-Wähe. A delectable recipe, courtesy of Chef Andreas Appenzeller. This tart, similar to quiche, offers a nice hearty and creamy dish for brunch.
This sophisticated spring salad features seared pork tenderloins over an unusual mixture of greens, with a wild garlic pesto.
Pfifferling-Spätzle-Pfanne. A breakfast or brunch dish of browned mushrooms, onions and German spaetzle noodles in a lightly spiced custard.
Schinken-Sauerkrautrollen. Flavorful savory rolls are filled bacon, ground pork, and sauerkraut and seasoned with leeks, juniper berries and clove. Delicious served with sour cream.
A novel presentation of German flavors of red cabbage, spaeztle, and Cambozola blue veined cheese, this nutritious and elegant dish could be a vegetarian entree for a holiday meal.
Dessert
Erdbeer-Törtchen. As delicious as it gets! The slightly tart créme fraîche perfectly complements the fresh sweet strawberries.
Beverage
A refreshing blend of white wine, sparkling wine or mineral water and wild woodruff.