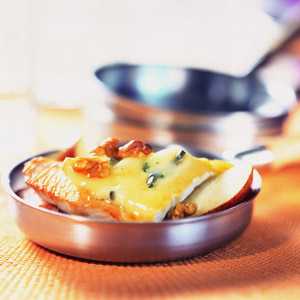 Tired of the same old holiday feast? Count down the hours to New Year's with a fun raclette evening featuring German cheeses. With minimum preparation you'll find an evening centered around raclette or fondue allows for relaxed conversation, more time with friends and family, and a joyful creative communal dinner experience.
Ingredients
1

pound

German butter cheese

1

pound

Allgäuer Emmental cheese

1

pound

German mountain cheese

Allgäuer Bergkäse

1

pound

Cambozola

triple crème brie with blue veins

1

pound

broccoli heads

1

pound

cauliflower heads

2

pounds

small potatoes

2

packages

pre-sliced Black Forest prosciutto

1

jar

Meica mini-winis

1

jar

German baby gherkins

1

jar

German pickled beats

1

jar

German cocktail onions

1

large can

peaches or apricots

1

large can

pineapple

2

fresh pears

2

fresh apples

juice of 1 lemon

cooking spray
Instructions
Wash and clean the potatoes and boil them to desired doneness. Wash and clean the broccoli and cauliflower and cook in boiling lightly salted water to desired doneness.

Cut all cheeses into thick slices so that they will fit the individual pans of your raclette grill.

Arrange the Black Forest prosciutto, the mini wieners on one serving platter, the vegetables and pickles on a different one. Cut the peaches and pineapples into slices or bite-size pieces. Cut the pears and apples into thin slices and drizzle with lemon juice to prevent the fruit from turning brown.

Before using the individual pans, thinly coat them with cooking spray. Now all that's left is to do is plugging in your raclette grill, calling all your guests to the table and letting the party begin.

Serve German white wines or hot Glühwein and observe: the later the evening, the more creative and adventurous the combinations will get.