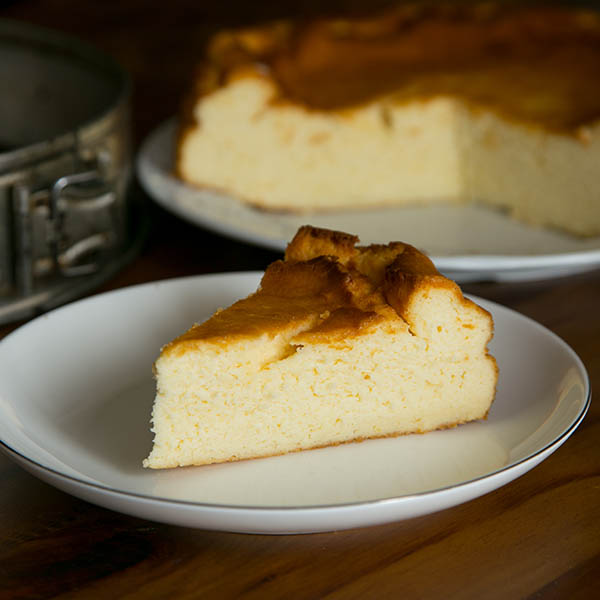 Make this traditional German cheesecake the day before you intend to serve it so it can chill and firm. It is best made in a traditional spring-form cake tin with a removable base. Use Quark and cream for the best melt-in-your-mouth texture. Add some golden raisins to the cheese mixture for a variation.
Region
Mecklenburg-Vorpommern
Ingredients
1

10 inch

"sponge flan base"

(spongecake base)

1

lb

quark

1 1/4

cups

sour cream

1 1/4

cups

heavy cream

7

oz

superfine sugar

(caster sugar)

3

large eggs

beaten

juice of 1 lemon

2

tsp

vanilla essence

or 2 sachets vanilla sugar

golden seedless raisins (sultanas)

optional

sifted confectioners' sugar
Instructions
Preheat the oven to 320 degrees F.

Lightly grease the sides of a 9-inch springform cake tin. Using the base as a template cut the sponge flan to fit the inside of the tin. Line the base first with a disc of parchment paper, then press the cut sponge cake circle down on the base of the tin. Make sure it is a snug fit so the liquid mixture doesn't seep out during baking.

Beat together the Quark, two creams, sugar, eggs, lemon and vanilla sugar or essence in a food processor or by hand in a large bowl (If golden raisins are used, add two good handfuls at this stage).

Pour on top of the sponge flan base and bake for about 40 minutes until the top is golden brown. Turn off the oven and leave the cake inside for another hour to prevent the surface from cracking.

Chill the cake in the refrigerator overnight until very firm, then run a table knife inside the rim of the tin to loosen and remove the cake. Dust the top with sifted confectioners sugar and serve.
Recipe courtesy of Roz Denny, Modern German Food