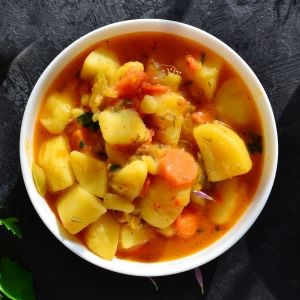 Coming home to the welcoming aroma of a steaming pot of richly flavored soup or stew has to be one of the most comforting experiences of the season. Winter's short days and dreary weather leave our bodies craving warmth. Germany's Soups and stews, gently simmered, are surely the perfect winter comfort food.
Slow simmering is the secret to a perfectly-cooked pot of soup or stew, and it's one of the most ancient forms of cooking. By simmering the ingredients slowly in broth or stock, flavors are gradually extracted and blended. The finished dish will invariably taste a little different every time it's made, depending on the ratio of the ingredients and at what stage of cooking they are added. (Remember that when using meat or fish it is important not to allow the dish to come to a hard boil because that will cause the protein to take on an unpleasant rubbery texture.)
One pot dishes are usually quite simple and fun to prepare and provide great nourishment for the body and comfort to the mind. From a nutritional standpoint, most soups and stews have a balance of protein (meat) and healthy carbohydrates (potatoes, pasta), vitamins (vegetables) and minerals (stock/broth) that's hard to beat. Another great thing about stews, especially, is that they usually taste even better the next day. So make sure to prepare enough to last.
Is it soup, or is it stew? Both are made of combinations of vegetables, meat, fish, and liquid. Stews tend to have just enough liquid to cook the other ingredients at a simmer, with the liquid becoming a gravy for the other ingredients. Stews are commonly served over noodles, potatoes, rice or other grains. Soups tend to have more liquid, enough to cover the other ingredients and cook them slowly in the liquid, making the liquid a main component of the dish.
Explore the world of Germany's Soups and stews (Suppen soups and Eintöpfe, stews or "one pot")!
German Stews (Eintöpfe):
German Soups (Suppen):