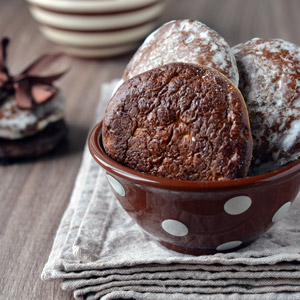 Only gingerbread made in Nuremberg can legitimately be labeled Nürnberger Lebkuchen. The finest of those gingerbreads are the flourless Elisenlebkuchen, the masterpiece of the trade since the early nineteenth century. Elisenlebkuchen come glazed with sugar or chocolate, or plain. This recipe glazes one half of the rounds with sugar glaze and the other half with chocolate glaze. If you want only one kind of glaze, double the desired glaze ingredients.
Ingredients
4

eggs

1-1/4

cups

confectioner's sugar

pinch

ground mace

pinch

ground cloves

pinch

ground allspice

2

teaspoons

ground cinnamon

pinch

Salt

Zest of 1 lemon

preferably organic

1-1/4

cups

shelled unpeeled almonds

1-1/4

cups

chopped hazelnuts

1/3

cup

candied orange peel

2-1/2 ounces

1-1/4

cups

diced citron

6 ounces

24

edible paper disks

3 to 3-1/2 inches diameter
For the sugar glaze:
3/4

cup

confectioner's sugar

1-2

tablespoons

hot water
For the Chocolate glaze:
4

squares semisweet chocolate

1-ounce each

1/2

tablespoon

unsalted butter
Instructions
Beat the eggs with the sugar until foamy. Add the mace, cloves, allspice, cinnamon, salt, and lemon zest.

Preheat the oven to 350 degrees F.

Grind the almonds and the hazelnuts very finely in a food processor and combine with the eggs. Chop the orange peel and citron very finely and add them to the mixture.

Place the edible paper disks on a baking sheet and spread with the mixture about 1/2 inch thick, leaving about 1/4 inch all around. Bake for 20 minutes. The rounds should still be moist and soft. You can check this by gently pressing on the bottom (paper) side. Place the rounds on a cake rack and glaze while warm.

For the sugar glaze, mix the confectioners' sugar with hot water until the sugar is completely dissolved. Add just as much water as needed for a thick but spreadable consistency. Coat the rounds with the glaze and let it dry completely.

For the chocolate glaze, melt the chocolate and the butter in a double boiler or in a metal bowl set over a pot with boiling water. Stir constantly until smooth. Cool slightly, then spread the glaze evenly over the rounds and let it dry completely.

Store in an airtight container, preferably metal. They keep for up to a month.
Recipe reprinted from "Spoonfuls of Germany" with permission from Hippocrene Books