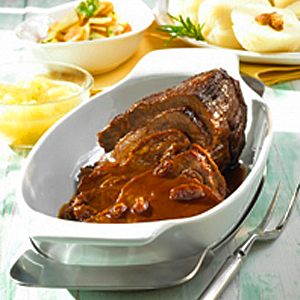 Sauerbraten recipe from the Eifel region (west of Cologne) using beet sugar syrup, red wine vinegar and is fast and easy to make.
Region
Rhineland-Palatinate
Ingredients
2-1/4

lbs

of beef

from the hip, 1 kg

salt and freshly ground pepper

2

onions

1

carrot

1/2

cup

red wine vinegar

125 ml

1/2

cup

stock

125 ml

2

bay leaves

1

clove

1

tsp

peppercorns

3

tablespoons

butter

3

tablespoons

of sugar beet syrup

2

oz

raisins

50 g

pinch

cayenne pepper
Instructions
Rinse beef, pat dry, season with salt and pepper and put it into a Dutch oven. Peel onions and carrots, dice both.

Heat vinegar and broth in a pot. Add carrots, onions, bay leaves, cloves, peppercorns and juniper berries, bring to a boil then reduce heat and pour over the meat.

Marinate the meat covered about 2-3 days in the refrigerator.

Preheat electric oven to 180 degrees. Take Sauerbraten from the Sud, pat dry and fry in hot butter in a roasting pan on all sides, add marinade and cook approximately 1.5-2 hours covered (electric and gas oven: 180 degrees / 4, convection oven 160 degrees).

Remove roast to pass sauce through a sieve, stir in Grafschafter Goldsaft syrup, bring to a boil and thicken with sauce thickener. Stir in raisins and season the sauce with salt, pepper and cayenne pepper.

Cut roast into slices and serve as desired with dumplings and seasonal vegetables.
Recipe copyright Grafschafter Krautfabrik GmbH
Notes
Preparation time: about 45 minutes
Marinating time: 2-3 days